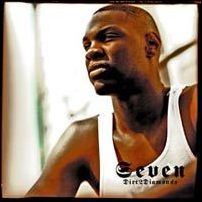 the number that always follows me around.
Orlando, FL (PRWEB) July 25, 2006
Packing a punch from beginning to end, the album proves Seven's versatility as well as his love for writing and true musicianship. Seven made use of an actual band rather than produced sounds, giving the album its flawless flow and non-stop vigor. Tracks like 'Hip-Hop,' 'Dirt 2 Diamonds,' 'Fat Laces,' and 'Doesha' deliver with clarity and forcefulness necessary to make Dirt 2 Diamonds shine above the rest -- the type of originality not often seen in Hip-Hop music.
Theotis Haimes says that seven is "the number that always follows me around." So when it came to choosing the name he would be known by, Seven was it. With a name for himself, he set out to make sure everyone knew it. "I've been involved in music since I was able to hear music," Seven enthuses. "I was 13 years old when my older brother heard me rapping. I just surprised him, and he gave me confidence that I could do this."
Growing up strong in New York City, (as Seven proclaims, "in the city, you grow up a lot faster than anywhere else,") he made the move to Florida with his mother and siblings when he was nine years old. "Florida seemed a bit segregated then… it took a while to adapt." And although Florida did not offer the wide spectrum of influences New York did, Seven kept his influences close by. "I loved a really wide variety of music growing up," Seven recollects. "I'm just a music person, all the way to country music. But my big influences are Grandmaster Flash, Run DMC [heavily, he notes], 2 Pac… I just really like storytelling. I like stuff that's not so materialistic — I want to express more than clothes and jewelry. I love street music; I just don't want to do it. I'm more into the emotions: the hurt, pain and joy."
So when the time came for Seven to make his album, he did it with the same powerful style he grew up on, blended with his own personal touch.
With his spitfire rhymes and charismatic delivery hovering and popping above the moody instrumentation of his debut, Dirt 2 Diamonds, Seven presents a relentless record from front to back. "I used a live band to record with," Seven says. "Live music has such a great vibe and I wanted that to carry over onto the album. The live energy can really be heard. And it also allows me to project myself. Live music is the heartbeat… no heartbeat, no life."
The southern style of Seven is much different than expected. It's not so 'Dirty South' and it's not New York, but more a mixture of the two, as Seven is. "I really wanted the voice and words to have clarity," he explains. "And I really wanted to have some versatile sways to it. The live music goes back to the natural root foundation." Dirt 2 Diamonds is not Seven's first taste of the music industry. He has previously worked with indie label Grilled Up Records, writing for the album Platinum Party. He has also built up his local music reputation aggressively, performing as much as possible and becoming a sensation on local radio. It's Seven's battle that continues to rage in his mind that pushes him.
"Sometimes I really struggle to say what's in me… but that keeps me going in a way… it keeps me fueled. And I wouldn't let a track pass me by," Seven says firmly. "It's great to have some direction now, too. That means a lot. That love and passion keeps me happy and satisfied."
Seven's debut album Dirt 2 Diamonds hits stores late this Fall. Visit http://www.theofficial7.com for more details, mp3 and digital downloads of the independent music artist's music and freash hip-hop sounds.
###