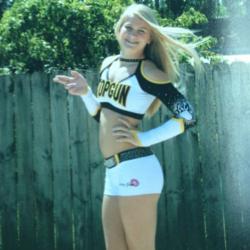 We're proud to support Taylor's future, and to partner with Cheer Channel to spread the word about Chassé to current and aspiring cheerleaders.
San Diego, CA (PRWEB) June 12, 2013
Cheer Channel has partnered with Chassé to enhance its widely popular "Superstars of the All-Stars" program, and provide cheerleaders like Taylor VanDemark with additional opportunities for her future, including a scholarship award. 2013 marks the second year for Cheer Channel's Superstars of All-Stars program. VanDemark is one of the 10 Superstars, following in the footsteps of internationally recognized cheerleader Maddie Gardner, who was one of the 2012 Superstars.
Each year, Cheer Channel Inc. handpicks its Superstars of All-Stars. Based on their ability to meet a very high set of standards both as an athlete and a person, the cheerleaders that are chosen represent the cream of the crop in the spirit industry. The standards the Superstars must meet include talent, commitment, dedication, physical skill, leadership, fan support, personality, community involvement, academic achievements, social skills, and respect of teammates and coaches.
"It is with great pride that we select these young women and men who best represent the All-Star cheerleading industry as role models and athletes, and emphasize the meaning of 'spirit' in our industry," said Cindy Villarreal, Cheer Channel CEO.
VanDemark is a tumbler, base, and backspot for Top Gun Lady Jags and YOSO5. She started her cheer career at age five with Top Gun and has been with them ever since. She is a 2012 NCA National Champion, 2012 UCA International Champion, six-time COA National Champion, and COA Grand Champion.
VanDemark performs the first and last tumbling pass and is a backspot, side base, and main base. She is in the Gifted Cambridge Program at Keys Gate Charter School and says that her toughest obstacle is balancing two level-5 cheer teams while maintaining exceptional grades.
"Taylor is exciting to watch and having her participate in the Superstars of the All-Stars program is a great opportunity to exemplify the hard work that it takes to be an All-Star," said Brita Bolane, Director of Brand Development for Chassé. "We're proud to support her future, and to partner with Cheer Channel to spread the word about Chassé to current and aspiring cheerleaders," added Bolane.
ABOUT CHASSÉ:
Chassé® is a leader and innovator in the world of cheerleading apparel and accessories, providing affordable and high-performance in-stock cheerleading apparel to cheerleaders of all ages.
ABOUT CHEER CHANNEL:
Cheer Channel, Inc. is a 24-hour online television network dedicated to the athletes and fans of the spirit industry. A premier destination for live and taped videos on industry news, competitions, events, and more, Cheer Channel also produces original scripted and unscripted web series.