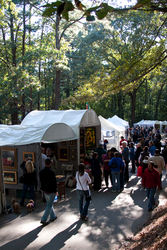 "We know that visitors and artists want their morning coffee,and we're glad to provide it with a discount," says Patrick Dennis, Artist/Director: Chastain Park Arts Festival."Visitors can bring their own mug, or buy a handmade one from the artists, and $1
Atlanta, GA (PRWEB) November 2, 2010
The Georgia Foundation for Public Spaces in Atlanta, Georgia, is proud to announce the Second Annual Chastain Park Arts Festival coming up November 6th and 7th in Atlanta, Georgia. The festival boasts 175 fine artists including painters, potters, jewelers and sculptors.
Moosehead and Choice Concessions are providing coffee for $1 in the "Mug & a Buck" promotion during the event. "We know that visitors and artists want their morning coffee, and we're glad to provide it with a discount," says Patrick Dennis, Director of the Chastain Park Arts Festival. "Visitors can bring their own mug, or buy a handmade one from the artists, and fill it with delicious coffee for just $1."
The arts festival is held in the beautiful Chastain Park, located on the north side of the popular Buckhead area. It will feature fine artists from all over the U.S., but primarily Georgia and the southeast.
The festival is organized and run by artist volunteers who understand the needs and challenges of artists and how best to connect with consumers during this difficult economy.
"Not having to travel out of state to do an art show really saves me money, and I can pass along those savings to my customers," says Knox Steinbrecher, a ceramic artist from Marietta, GA.
Great art, delicious foods and music in the park: what's not to love? Here are the details:
Location: 4469 Stella Dr., Atlanta, GA, 30327 (inside upper Chastain Park on Park Drive)
Times: Saturday, Nov. 6, 2010, 10:00 a.m. – 6:00 p.m.
Sunday, Nov. 7, 2010, 11:00 a.m. – 5:00 p.m.
Music: Acoustic musician Cliff DeMarks cool jazz and organic instrumental group The Flying Mystics
Admission: Free
For more information, contact Patrick Dennis at 404-845-0793 or visit http://www.chastainparkartsfestival.com.
About The Chastain Park Arts Festival:
The event is hosted by the Atlanta Foundation for Public Spaces, LLC (AFFPS) and the Georgia Foundation for Public Spaces, 501C3. AFFPS operates outdoor art and handcraft events in the metro Atlanta area. Festivals by AFFPS are staffed by volunteer artists to ensure the quality and production of each event is held to the highest standards. A 30-second commercial is available on YouTube: http://www.youtube.com/watch?v=NmjPhD3B2v4
Contact:
Patrick Dennis, Director
Chastain Park Arts Festival
404-408-2127
Email: patrick(at)affps(dot)com
Randall Fox, Founder
Atlanta Foundation for Public Spaces, LLC
http://www.affps.com
404-845-0793
Email: randall(at)affps(dot)com
# # #