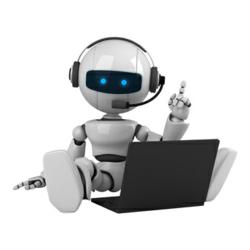 OK. If you even don't bother to type a question, let me guess what you want to ask next...
Sunnyvale, California (PRWEB) September 20, 2012
Sunnyvale start-up, Acobot LLC, has added a new feature to its next-generation AI (artificial intelligence) chat bot that predicts users' questions before they even finish asking them. The live chat robot, known as Aco, has the inbuilt intuition to predict what a website visitor wants to type and finish their sentence for them. At first glance, the feature is similar to a Google-style 'auto-complete' but rather than just offering tips and phrases, Aco completes the full sentence or offers a choice of finishes. She also understands synonyms and synonymous phrases, so that she can make sense of a question or part-question even when it's worded in different ways.
To create a live chat robot for their own site, complete with her Nostradamus-like predictive powers, users simply sign up at http://acobot.com , where they can prepare their personal Aco, free of charge, and then install her on their site when she's ready. Aco is also available as a Wordpress chat plugin.
Vic Duan, Acobot's founder and CEO, comments: "Aco works like a psychic chat robot, endowed with the power of predicting what visitors are about to ask and finishing their questions for them, or offering them a choice of finishes, all in properly constructed, meaningful and highly relevant sentences. It's almost spooky."
Aco's powers are due to Acobot's new breed of advanced AI programming that delivers a sophisticated, intuitive and now almost prophetic chat robot at a price hitherto unavailable. The program is supported by Acobot's intuitive learning, which enables even the most inexperienced owner to train Aco in just a few hours, simply by asking her questions and then offering her 'better' replies which she learns and instantly begins to use.
Aco is able to learn much more quickly than any previous generation of chat bots, even those that cost a great deal more, and can provide her own synonymous words and phrases. For example, if an owner teaches her to answer the question "what are your prices?", Aco will also be able to answer questions such as "how much does it cost?" and "how much do I need to pay?", and can add these like-minded meanings to her predictions for questions.
Predicted sentences are more than just a party trick as they provide extremely effective conversion optimization. Vic Duan continues: "Aco's predictive powers have a number of benefits beyond simply saving time or reducing the need to type whole questions. Monitoring site visitors during beta has shown us that the function acts as an early way of qualifying customer leads. Casual visitors tend to ignore Aco's suggestions but serious potential customers are much more likely to select questions relevant to the business. The questions also focus a serious customer's train of thought, so that it's becomes easier to close a sale straight away, optimizing conversion rates."
The Acobot AI robot is available to non-commercial website owners free of charge. Commercial users can choose from different price plans, including a free plan as well as paid-for plans starting at $29/month. Paid-for plans do not include Acobot branding.
About Acobot
Acobot LLC is an AI chat company established in May 2012. Its history goes back to 2009 when a team at Acosys began an R&D project on AI, then launched its first AI product in the final week of 2011. Based on the positive feedback from the first batch of trial users, the company decided to spin off Acobot as a stand-alone company, focused on AI chat.