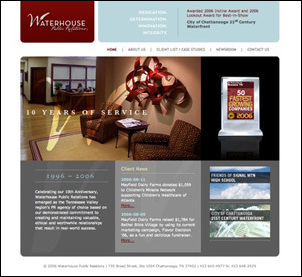 At Coptix, we wanted to create a site that reflects the marketing and business savvy of Waterhouse PR
Chattanooga, TN (PRWEB) September 21, 2006
Founded in 1996, Waterhouse Public Relations is Chattanooga's largest public relations firm relations firm. Having built a reputation for relationships that produce real-world results, Waterhouse wanted to further strengthen its strategic position as the Tennessee Valley's preferred PR agency.
So the firm turned to Coptix, Chattanooga's leading web design and marketing company. Coptix built an online presence that is consistent with Waterhouse's core values of creativity combined with fact-based information gathering and distribution, and yet increases its ability to reach clients in a broad range of industries.
"Waterhouse PR recognized a need to revamp our Web site to not only reflect the growth of the agency, but also our expanding position as a regional and national contender in a competitive public relations market," said Mike Gloekler, account manager for Waterhouse PR. "Among the attributes that brought us to a relationship with the Coptix team were their implicit understanding of our goals, their creative approach to capturing the essence of our values as PR practitioners and a business ethic that we felt we could count on. The end result is a top-notch Web site that integrates seamlessly with our marketing strategy."
"At Coptix, we wanted to create a site that reflects the marketing and business savvy of Waterhouse PR," said Coptix Vice President Josiah Roe. "Our purpose is to create technology that serves the business objectives of our clients. Building a site for such a great company like Waterhouse Public Relations was a real pleasure."
About Waterhouse
Waterhouse is Chattanooga's largest public relations agency. The agency serves a variety of local, regional and national clients including Alexian Brothers of the Southeast, CBL & Associates Properties, the Chattanooga Metropolitan Airport Authority, Chattanooga Heart Institute, Corker Group, EPB, Mayfield and Thunder Enterprises, among others.
About Coptix
Coptix, Inc is a full service provider of web and marketing services, creating meaningful and proven results through a holistic development approach in graphic design, internet marketing, e-commerce, digital broadcasting, and software development. Coptix has partnered with companies large and small, including Olan Mills, Rock Creek Outfitters, Chattem, UnumProvident, Jackson Furniture, Thinking Media, Hardees, The Chattanooga Technology Council, Coker Tire, Stray Dog Designs, Louis Wamp Architecture, The Arts & Education Council, Widgets & Stone, Chalmers Chocolate, Zumfoot, Publius Press, Clumpies Ice Cream, and Waterhouse Public Relations.
###