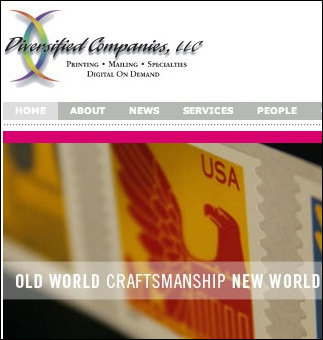 In today's market, the business of printing relies heavily on clients being able to communicate with their printer effectively, within tight deadlines
CHATTANOOGA, TN (PRWEB) March 9, 2007
Diversified Companies, LLC announces that it has launched a new website built by Chattanooga's leading web development and marketing company, Coptix, Inc.
Diversified, which began a printing service run out of a print shop after regular business hours, has grown into an organizations whose quality, service and dependability benefiting more than six hundred clients in Chattanooga and the greater Tennessee Valley area. The group's four companies encompass commercial printing and design, mailing services, self-promotional items and apparel, and on-demand digital printing and publishing.
The design and site construction teams at Coptix developed three primary goals for the site. First, to promote Diversified's dual commitment to traditional artisan virtues of printing and to state-of-the-art technological abilities. Second, to communicate the full range of services offered by the Diversified Companies group. Third, to allow clients and potential clients to request quotes quickly and easily online.
"In today's market, the business of printing relies heavily on clients being able to communicate with their printer effectively, within tight deadlines," said Coptix Executive Vice President Josiah Roe. "And communication is a two-way street. Diversified has grown by bringing distinct but related services together under one corporate umbrella. Their new website clearly shows the full scope of services that Diversified brings to the table."
"Diversified strives to keep our customers first. In today's competitive market, that means being willing to have the most up to date, cutting edge technology," said John Dawson, Managing Partner. "Divcompanies.com gives our customers what they need: a central hub where they can get company information, submit quotes, order product and even keep track of their inventory online. Our new site provides our customers the tools they need to be successful, and when they're successful, we're successful."
About Coptix
Coptix, Inc is a full service provider of design and web services, creating meaningful and proven results through a holistic development approach in branding, graphic design, internet marketing, e-commerce, and software development. Coptix has partnered with companies large and small, including Olan Mills, Rock Creek Outfitters, Chattem, UnumProvident, redbox, Stray Dog Designs, Thinking Media, Hardees, The Chattanooga Times Free Press, Waterhouse Public Relations, The Arts & Education Council, Widgets & Stone, Chalmers Chocolate, Zumfoot, Coker Tire, Clumpies Ice Cream, St. John's Restaurant, and Diversified Comapnies.
About Diversified Companies, LLC
Founded in 1992, Diversified Companies LLC has grown into a full service print facility, operating four companies that service the needs of our clients: Printing, Mailing, Specialties and Digital Services (book on demand).
###