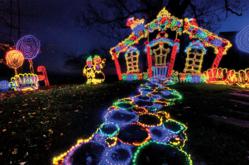 Chattanooga, TN (PRWEB) November 08, 2012
Sing Christmas carols on a river cruise, build gingerbread houses, meet coral reef Santa divers, and watch the lighted boat parade. Then just minutes away, bundle up for an amazing evening high atop Lookout Mountain in a nocturnal fantasyland with more than one million star-bright twinkling lights illuminating the sky or just 15 minutes from downtown, hop on board a train for a North Pole adventure.
The Scenic City's magic unfolds with elegant décor, music and special events for making your holiday memories more joyful than ever before.
TOP CHATTANOOGA HOLIDAY ADVENTURES
During the holiday season, take time to clear the mind and relieve the spirit. Chattanooga's attractions offer wonderful holiday activities for every member of the family.

Rock City's Enchanted Garden of Lights/Nov 16, 2012-Jan. 5, 2013 (closed Christmas Eve), Nightly – Over a million lights transform the gardens' daytime splendor to a nighttime fantasyland. Cookie decorating, hot cocoa & nightly musical entertainment.
Tennessee Valley Railroad's North Pole Limited Adventures/Nov. 17,23,24,25,30 & Dec.1,2,7,8,9,14-22 ($) – Take an imaginary trip to the "North Pole" on a vintage train with refreshments, storytelling, caroling, visits by Santa Claus & more!
Chattanooga Choo Choo's Holiday Enchantment/Nov. 16-Dec. 22 ($) – Have your pictures taken with Santa, take the North Pole Limited train, become an Honorary Elf at the Elf Workshop complete with crafts, arts, games and movies or get tucked in by an Elf! Multiple overnight packages available, including sleeping in a traincar.
Tennessee Aquarium's Holidays Under the Peaks & IMAX 3D/Nov. 16, 2012-Jan. 6, 2013 ($) (Closed Thanksgiving Day & Christmas Day) – Special programming helps connect families to fascinating creatures from around the world. Quiz divers, penguin experts and other keepers about family units in the wild. Special weekend appearances by SCUBA Claus Nov. 17-Dec. 24.
Ruby Red Christmas/Fri & Sat.in Dec.(closed Christmas Day) ($) – Enter the snowy wonderland and meet costumed characters, listen to holiday acoustical music & visit the North Pole Workshop for festive activities, pictures with Santa and reading time with Mrs. Claus.
Creative Discovery Museum's Winter Wonders/Nov. 17, 2012-Jan. 8, 2013 (Closed Wed) ($) –Explore cold-weather traditions. From cozy cottages to a blizzard maze and learning about animal tracks, this exhibit is a warm welcome for wintertime play.
Creative Discovery Museum's Gingerbread Workshops/Nov. 23-Dec. 23 (Closed Wed) ($) – Create your own Holiday tradition by participating in the annual Gingerbread House Workshop. By reservation only.
MainX24 Festival/Dec. 1-2, 8am-8am (free) – Celebrate Main Street & the Southside district with a 24 hour block party! The jam-packed schedule includes everything from a pancake breakfast and chili cookoff to live music and art. Santa will be at the Choo Choo & don't miss the Southside parade.
Chattanooga Holiday Market/Dec. 1-2 & Holiday Market Too!/Dec. 8-9, 15-16, 21-23 (free) – The Holiday Market offers a special holiday theme with live music, caroling, festivities & over 200 vendors selling unique, hand-made holiday gifts and artisan foods. Holiday Market held at First Tennessee Pavilion. Holiday Market Too held at the Chattanooga Convention Center.
Holidays at the Hunter Museum of American Art/Nov 29, 2012-Jan. 2, 2013 ($) – Explore the Hunter galleries and discover themed holiday trees and other decorations created by Chattanooga's top designers and florists.
Holiday Starlight & Lighted Boat Parades/Dec. 8 (free) – Enjoy the Starlight parade with over 50 entries including Santa himself followed by the popular boat parade on the downtown river.
Chattanooga Zoo's Holiday Lights/Dec. 14-15, 21-22 ($) – Come and see the Chattanooga Zoo transformed into a magical winter wonderland. Visit the animals and Santa Claus while enjoying fun holiday games and crafts!
The Nutcracker at the Tivoli Theater/Dec. 7 & 9 ($) – Join Chattanooga Ballet and the Chattanooga Symphony Orchestra for Tchaikovsky's classic holiday ballet.
NEW YEAR'S EVE
Ringing in the New Year can be one of the biggest festivities of the year – if you know where to party. Celebrate in Chattanooga this year, with a variety of family-friendly and adult options.
Track 29 Rings in NYE w/Here Come the Mummies ($)/Dec 31, 8pm-1am – Here Come the Mummies bring their spectacle-driven live show and knee spreading brand of terrifying funk.
New Year's Eve @ the Hunter Museum of American Art ($)/Dec. 31, 8:30 p.m.-Jan. 1, 1 a.m. – Ring in the new year in style at the Hunter! Enjoy great food, drinks, music and the best view in Chattanooga! Reservations required.
Southern Belle Riverboat NYE Dinner Cruise ($)/Dec. 31, 4:30-6:30pm – After a dinner of prime rib, enjoy live entertainment, dancing, toasts and more.
Southern Belle Riverboat's New Year's on the River Cruise ($)/Dec. 31, 8pm-1am (adults only) – Ring in the new year with great food, live entertainment, dancing, toasts and more.
Chattanooga Choo Choo's "New Year's Rockin' Eve Party" ($)/Dec. 31, 7:30 pm-1 am – Dance the night away. Doors open at 7:30 pm, The Beaters play at 8 pm. Cash bars, snacks, prizes, & more; overnight packages available. Book early, reservations required.
New Year's at Noon @ the Creative Discovery Museum ($)/ Dec. 31, 11am-1pm – At the stroke of noon, Father Time will make an apple juice toast. Make noise shakers and join in the New Year's Parade complete with live music.
Tennessee Aquarium's "New Year's Eve Sleep in the Deep" ($)/Dec. 31, 6:45 pm-Jan. 1, 8 am – Explore the aquarium at night! Includes tours, special activities, pizza, midnight toast & continental breakfast. Reservations required.
For a full list of events, printable coupons, hotel packages & more, visit - http://www.chattanoogafun.com/winter