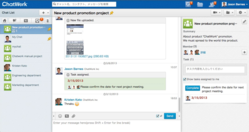 ChatWork is a more simple, faster, and easier way for business teams to work together than email alone
Sunnyvale, CA (PRWEB) May 09, 2013
ChatWork, a leading cloud collaboration solution for business teams, today announced its official entry into the U.S. market with the launch of its new video chat and screenshare features. The company also released an infographic showing how team communication is affected by trends in instant messaging and email usage worldwide. ChatWork is one of the only collaboration solutions that combines group or individual text, voice, and video chats, task management, and file sharing in a single service that can be used both within and between companies.
Solid Growth Data
ChatWork is well-positioned for solid growth in the U.S. market. ChatWork is adding an average of 15,000 new users per month, and the company is on track to reach 1 million users in 2013. More than 90 percent of the company's paid users use ChatWork every day, and 50% of all monthly active users log in daily, a number on par with Facebook. ChatWork's paid conversion rate is three times greater than Dropbox and Evernote, which is 4 – 4.5 percent. More than 90 million total messages have been sent on ChatWork. Finally, a case study of a Japanese company with offices in Vietnam showed that ChatWork helped doubled productivity among the 140+ local staff.
Simple, Fast Video Chats
Today, users install a small browser plug-in to use ChatWork's new video chat and screenshare features. Later in Q2 this year, users will be able to use both features without having to install any plug-in or desktop software (unlike Google Hangout or Skype). Users can conduct video chats and auto-save notes within a single interface without pop-up windows. Two non-paying users can use video chat and make voice calls with up to 100 ChatWork contacts. If one or more paid users are included in a group, a single video chat can include up to 14 free or paying users. ChatWork has a free and several paid plans starting at $2.00 per user per month, which offer the ability to add more users, storage space, and/or message search features. Full plan descriptions and pricing are available at http://www.chatwork.com.
Infographic: Growth and Evolution of Instant Messaging
Email has already become a productivity problem for teams. U.S. employees spend an average of 28 percent of their work day reading emails, including an average of 105 emails sent and received daily (source: McKinsey Global Institute and IDC). According to ChatWork, this translates to nearly 90 work days per year, or $4.62 million lost in reading email alone if extrapolated to a 1,000 employee company (1). But instant message accounts are projected to grow to 4.3 billion worldwide by 2016, growing faster and becoming as widely used as email (source: Radicati Group). The complete infographic about trends of IM and email usage can be viewed on this page to the right.
ChatWork has several advantages over email. Its instant messages are immediate, brief, better suited for team conversations and assigning tasks, have no spam, and can be enhanced by voice and/or video chats. ChatWork also solves a critical problem found in many other collaboration solutions that use instant messaging: the ability to archive and quickly search individual or team conversations.
"ChatWork is a more simple, efficient way for teams to work together than email alone," said Toshiyuki Yamamoto, CEO of ChatWork. "With our searchable chat conversations, task management, file sharing, and now – video chats and screensharing – our simple platform is a clever way to increase team productivity and decrease information overload."
About ChatWork
ChatWork is a simple, cloud collaboration service that allows business teams to get work done faster and easier. ChatWork works with most modern Web browsers and requires no additional software to install. The ChatWork mobile app is also available on Android and iOS devices. Users can log in and import contacts to ChatWork from Facebook, Twitter, Gmail, LinkedIn, Yahoo!, Windows Live, and Tumblr accounts. Key customers include btrax, KDDI Mobile, ZOHO, TEDxKyoto, Keio University, Yuai Hosptial, Access International Law Group. Founded in 2000 with headquarters in Japan, ChatWork's U.S. office is in Sunnyvale, CA. For more information, visit http://www.chatwork.com.