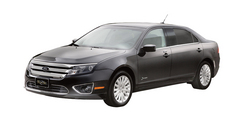 we, as a company, have an obligation to not have an adverse impact on the environment while providing world class service to our clients
Rockville, MD (Vocus) August 5, 2010
RMA Worldwide Chauffeured Transportation, in an effort to reduce their carbon footprint, now operates a new more fuel efficient vehicle. The Spring in Washington always brings the cherry blossoms but this year it has brought something very new and special. RMA took delivery of several of the Ford Fusion L Series Cars. Royale Coachbuilders of Massachusetts now cuts and stretches these cars by six inches to assure plenty of leg room for the passengers while delivering great fuel economy. The car is still very corporate in appearance yet extremely comfortable.
Robert Alexander, President and CEO of RMA, has long been very concerned about the environment. RMA has operated Flex Fuel Sport Utility Vehicles for several years. The company also owns a service station where recycling is a key component of that business. The station recycles tires as well as many of the fluids they change. Mr. Alexander says "we, as a company, have an obligation to not have an adverse impact on the environment while providing world class service to our clients". The new Fusions are getting forty miles to the gallon says Mr. Alexander which is over twice the mileage of the current fleet.
Our plan is to take delivery of about twenty more of these vehicles this coming winter says Alexander. As the time comes to turn over their fleet of Lincoln Town Cars, the plan is to replace them with vehicles that add little or no pollution.
The cars have already been widely accepted by RMA passengers. The focus of the RMA business is the corporate traveler. A very large portion of the service provided is travel to and from the three major airports serving Washington, DC. Many corporations now have a travel mandate to ride with companies who have a plan to reduce their emissions.
RMA has always been a leader in the transportation industry and a cutting edge company when it comes to the latest in vehicles or technology. For more information on RMA and any of the services they provide, they can be contacted at 800-878-7743.
###