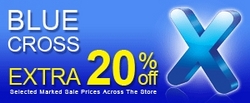 At Paul Simon, we pride ourselves on competitive pricing and these blue cross prices are some of the best we have ever offered.
(PRWEB) February 3, 2011
One of the leaders in Britain's home furnishings sector has today begun its first Blue Cross Sale of 2011.
Paul Simon, one of England's largest home furnishing chains has expanded upon its current Winter Sale and is now offering customers an extra 20% off of sale prices until the end of February. The subsequent savings will be on selected items, signified by price tags marked with a blue cross.
Typically a winter and summer event, the company's bi-annual Blue Cross Sale will take place both online and inside their 51 stores across England. The reductions have come at a time of economic hardship as the British public fight to cope with the recent VAT increase that came into effect on January 4th 2011.
Paul Ludwin, Managing Director of the Paul Simon chain is confident that the sale will be a success: "Our country has fallen prey to a financial meltdown and consumers are continuously on the lookout to save as much money as they possibly can. As a company, we want to help our customers get the very best value that they can."
"When it comes to home furnishings, we know that costs can soon mount up. In December we significantly slashed our prices for the Winter Sale and the fact that we have now reduced selected items by a further 20% leaves us safe in the knowledge that we are offering consumers excellent products at a fraction of the price. At Paul Simon, we pride ourselves on competitive pricing and these blue cross prices are some of the best we have ever offered."
Since the launch of the Winter Sale, Paul Simon has noticed a considerable increase in sales both online and in store. The Blue Cross Sale is only set to heighten these figures with a considerable amount of the chain's beds and mattresses subject to significant reductions.
Since its launch in 1990, Paul Simon has seen great success. In 21 years of service the company has established itself as one of the leaders in the retail sector of home furnishings and has even won awards within the curtain sector. The company have made their name by offering a wide range of products including beds, blinds, curtains and rugs at low costs. Their product range has dramatically extended over time and continues to grow with their most recent addition being the launch of their very own bespoke curtain service.
Notes to editor(s)
Paul Simon Home Furnishing Stores is an award winning curtain retailer established in 1990.
Since their launch 21 years ago, Paul Simon has grown from strength to strength and has even seen web traffic and sales treble during the current recession.
Paul Simon offers one of the largest ranges or curtains, blinds and beds in England.
Paul Simon currently operates 51 stores across England and continues to expand. All of our stores are open 7 days a week.
# # #