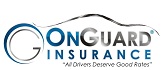 Los Angeles, CA (PRWEB) August 28, 2012
OnGuard Insurance is proud to announce that its customers have the ability to instantly compare rates online. Shopping for auto insurance can be tedious and time consuming so what if there was a website that did most of the leg work for you, well now there is. OnGuard Insurance allows you to instantly compare rates of many of today's top companies saving you both time and money in the process.
That's right; with just some basic information OnGuard Insurance's website will provide you with a list of auto insurance companies alongside their rates for you. All it takes is about 3 minutes to enter some basic personal information and when you click on get quotes, it'll display your personalized quotes of about a dozen insurance carriers. You can just compare, choose and save! Finding cheap car insurance has never been easier.
In addition to auto insurance, OnGuard also offers homeowners, motorcycle, health, life, business and SR22 Insurance. Instant comparative rate quotes are available on almost all products offered. If you happen to enter a product and state combination of a type of insurance that's not offered by OnGuard, their site will give a list of many reputable companies offering what you're looking for in your state. This site makes it real easy for anyone to find almost any type of insurance they're looking for.
OnGuard Insurance is an insurance agency that strives to save you money while maintaining a great reputation of service that is evident in their online reputation. The company believes that they're in the customer service industry rather than the insurance industry and strives to excel in that department. Adding an online comparative rater in just one of the ways of providing excellent customer service, how better than to make a customer happy then to start them off with savings in both money and time. It's definitely worth to take the few minutes to see how much you could save, get your free car insurance quote in just 3 minutes.