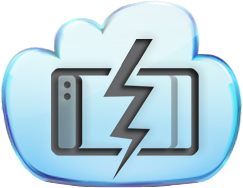 ZapDrive behaves like an external drive, with all the data being stored in the cloud
Santa Clara, CA (PRWEB) October 10, 2012
Santa Clara, CA based ZapDrive.com, a new entrant in the cloud storage market, announced the launch of its service today. ZapDrive provides the cheapest cloud storage for their clients, with service plans starting at 100 GB for $19.99/year, which is less than 2 dollars a month. Plans that range up to 10 TB cloud storage space are available. As an added advantage, users do not need to install any software to use the service.
"ZapDrive has a feature known as 'Drive Mapping'. It behaves just like an external drive on your computer," explaind a company spokesman, "It shows up in your 'My Computer' or 'Mac Finder' window, and everything you copy into it is stored in the cloud!" ZapDrive works on all versions of Windows, Mac OSX and Linux. Users can easily view their files and listen to their music on multiple devices, such as their smart phones and tablets. The service offers Android, iPhone and iPad apps, and is working on Blackberry and Windows Phone apps.
ZapDrive comes with a lot of features, e.g., version history and WebDAV support. Users can share their files and folders publically or privately with friends and family. If a user has more than one computer, they can set up ZapDrive on all their computers and have the same files on each device, providing an efficient method for file syncing. Since ZapDrive built its own cloud, rather than storing user data on a third party cloud like EC2, it provides a safer place for storage than some other popular cloud storage services.
ZapDrive prides itself for providing the lowest prices for consumer cloud storage. As a comparison, Dropbox offers 100 GB for $99.00/year, Google Drive offers the same amount of space at $60.00/year and Box.com offers only 50 GB at $19.99/month. ZapDrive also offers a free 250 MB package, so that the users can use the service to their full satisfaction, before buying additional space. Giving more details on why the company does not offer more free space, the spokesman said, "Other companies make the paid users pay for their free users. According to our estimates, 66% of the space provided by one of our competitors, is given to free users. Basically, they are taxing their paid users, to cover the costs for providing more free space to free users. 250 MB is enough to try the service, and if you like it, then pay for it!"
Users can get a free account by going to http://www.ZapDrive.com.