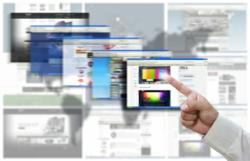 This special pricing can be reduced with discount codes.
San Francisco, California (PRWEB) January 21, 2013
Websites are growing in popularity in 2013 and a new domain company has launched online to provide reliable registration and management services. The Super Cheap Domain Names company has opened its website and is offering $9.99 domains at a locked in price for the remainder of the year. This special pricing for cheap domains can be reduced with discount codes or other special offers that consumers often use. These lower priced services are now available online.
The social media growth over the past decade was expected to soften the demand for website domain registrations. The ICANN company that is the sole regulator of U.S. extensions has recently approved more domains other than .com extensions. The new list is expected to create more competition in the online marketplace and the new website launch for the Super Cheap brand is in preparation for the opening of more domains this year.
Hosting packages are now available as an alternative to third party server solutions. While some companies outsource data management, it is commonplace to setup hosting accounts with U.S. companies for the virtual storage of information and data. The SuperCheapDomainNames.com company offers various hosting packages that are appropriate for small to medium sized companies. These affordable packages now start at $3.99 each month and can be reduced in price by discount codes.
The launch of the company website has resulted in new services being added. The integration of website builder tools and SSL packages for e-commerce is creating a way that companies of any size can start selling online quickly. Marketing services are offered separately from the website builder packages to help companies achieve the top position in search engines. These expert level services are now offered at a fraction of the cost of hiring a search engine optimization company.
The new domain name registration process can be completed immediately and access is granted to the secure management area. This service is expected to provide an alternative to other larger registration companies that could experience delays due to the large amounts of registrations that are completed each day.
About Super Cheap Domain Names
The Super Cheap Domain Names company launched its new website in 2013 and is one of the best values online for registering a .com, .net or .org website address. Through regular price decreases and coupon incentives, this company has been able to build a loyal following of business and consumer clients. The additional services that are offered by this company are providing more value online. The Super Cheap Domain Names company frequently updates its pricing to match competing companies in an effort to bring the lowest prices to companies, individuals and website owners.