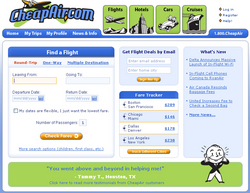 Everyone else in the on-line travel space seems to be doing things the same way with the same tired user interfaces
Encino, CA (PRWEB) October 9, 2008
Cheap Air, Inc., a leading source for low cost air fares since 1989, has introduced a major redesign to its web site which radically simplifies the way travelers book air fares on-line.
The new booking engine, which has been in beta testing since February, gives users the ability to view on one screen all outbound and return options for each low cost airline and instantly see how air fares vary when one cheap flight is combined with any other. The site also gives the user the ability to quickly tailor the results to see how air fares change as the departure time window is limited or expanded, or alternate airports are added or removed.
"Everyone else in the on-line travel space seems to be doing things the same way with the same tired user interfaces," said Executive Vice President Eric Fichtelberg. "We spent a lot of time talking to customers, cleared the slate, and then took two years to re-engineer the whole process. What we've come up with is a quantum leap ahead of everything else that's out there and we're delighted with the feedback we've been getting."
The new site makes extensive use of Ajax and other "Web 2.0" technologies to quickly deliver results to users and allow them to manipulate those results on the fly, without having to wait for pages to reload.
About CheapAir.com
Cheap Air, Inc. has been reliably delivering low cost air fares, cheap flights and discount airfare since 1989. With three U.S.-based call centers, a 1-800-CHEAP-AIR customer support line, and a leading edge web site at http://www.CheapAir.com, the company makes it easy for consumers to take advantage of over 96,000 exclusively negotiated discount air fares.
###