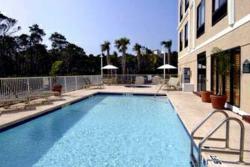 The Wingate by Wyndham is one of Destin's hidden gems, located behind Big Kahuna's Waterpark off Highway 98.
Destin, FL (PRWEB) February 05, 2013
Destin has been made popular over the years as a fun family destination that caters to all ages and interests. When traveling to any destination, it's the goal for any consumer to find the best hotel at the best rate possible. TripShock.com has helped make that search a little easier with these popular recommendations for the Destin area.
SummerPlace Inn - SummerPlace Inn is nestled in the heart of Destin just minutes from the beach. In recent years, the hotel (Formerly known as the Best Western) was renovated and boasts some of the sleekest rooms in town. The hotel offers free wifi, complimentary deluxe breakfast, indoor/outdoor pool, and flat screen TV's. The rates at the hotel vary during the season, but TripShock.com customers give it 2 thumbs up for best value in Destin. Travelers can book this property for right around $100 per night throughout most of the year.
Ariel Dunes Resort - The Ariel Dunes Resort is one of the few condos that guests can book under $200 per night during the Summer. Guests can select from 1, 2 or 3 bedroom condo units. Each unit offers upscale accommodations which includes free wifi, full kitchen suites, private pools, onsite dining, and more. Best of all, the resort is just a short walk to the beach and all of the rooms have beach view.
Wingate by Wyndham - The Wingate by Wyndham is one of Destin's hidden gems, located behind Big Kahuna's Waterpark off Highway 98. Due to its location, the hotel receives little exposure from the road and customers typically find this property by searching the web or hearing from a friend or family member. The hotel has comfortable setting with a deluxe complimentary breakfast, free wifi, fitness center, pool and hot tub. Rates are typically a little over $100 per night during the Summer, but in the Winter they drop considerably in the $50 per night range.
There are several great deals on hotels and condos on TripShock.com. Follow TripShock! on twitter @TripShock or follow just their deals at @TripShockDeals. Call 800-450-7139 for reservations and booking info.