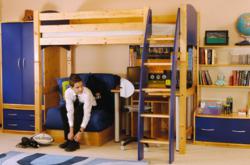 I didn't want my daughter's room to be an advertisement for Disney or the TV networks.
(PRWEB) October 17, 2011
Susan and Lee Ritchie started kidBed.co.uk after they had their daughter and started looking for nursery and children's bedroom furniture. They soon saw that most children's furniture including beds, dressers and accessories are covered with Disney characters or other cartoons. Susan said, "I didn't want my daughter's room to be an advertisement for Disney or the TV networks." Lee adds, "So, in 2010, my wife Susan and I started a company that offers a vast array of boys and girls beds and bedroom furniture and their coordination accessories."
KidBed.co.uk is an e-commerce business that Lee and Susan can run from home. This allows them to be full time parents while providing affordable, high quality children's furniture for people who are looking for a larger selection. They offer cheap childrens beds including pine bunk beds, sleeper station beds with desk, drawers and shelves, metal bunk beds, pink cabin beds and much more. Wooden or metal high sleeper beds are perfect to get the bed out of the way to make more living space in a small room.
Their business has become a great success in just over a year and with the combination of social networking and e-commerce, there are many new possibilities for shopping for the products they offer. The renovated website offers product reviews, evaluation on their customer service, sharing products with friends and family, tracking their orders as well as RSS feeds that deliver updates on new products as they become available. They have also upgraded their ordering process to make it easy and convenient.
KidBed.co.uk has expanded to become an information centre for decorating children's rooms. Visitors can find tips for colour coordination, carpets for children, shades versus curtains, lighting, lamps, work stations and much more. They offer recommendations for kid-friendly furniture. The website also hosts a list of resource articles on many topics related to do-it-yourself jobs such as painting and flooring.
At KidBed.co.uk visitors see a huge array of different types and prices of children's beds and other children's furniture. The beds include the conventional single bed as well as many styles of wood and metal bunk beds, cabin beds, beds for teenagers, futons and high sleepers. They offer the top brands in inexpensive children's furniture from Julian Bowen, Cresta and Stompa.
Susan and Lee are looking forward to feedback from returning customers as well as new visitors to their redesigned website. They are happy to fulfil their aim by offering parents the option of an attractive, comfortable environment for their children without commercialism.
To view their new look site please visit http://kidbed.co.uk
About KidBed.co.uk
KidBed.co.uk was founded in 2010 and is run by husband and wife team Lee & Susan. Based in Fife they specialise in bedroom furniture for children and teenagers.
# # #