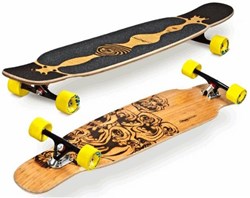 Greenville. SC (PRWEB) June 18, 2013
Longboarding is a great summer sport, but to be safe it is essential to wear protection gear. Unfortunately most knee/elbow pads, slide gloves, and helmets get more and more uncomfortable the hotter it gets outside. GlobeLongboards.com has several tips on how to stay cool while boarding in summer heat, and they have recently posted several new protection gear products that stay cool in hotter temperatures.
GlobeLongboards.com recently added several great products like vented mesh slide gloves, minimalistic knee pads and elbow pads, and vented helmets, all designed to keep cool and let out heat while boarding. Anyone looking to do some summer boarding should first head to GlobeLongboards.com and get properly outfitted for a great hot weather session.
Longboarding is one of the most enjoyable outdoor sports there is, and there are parts of longboarding that are perfect for anyone of any age. New boards and gear can get pretty expensive however. Luckily GlobeLongboards.com is a unique business in that they are dedicated to provide name-brand equipment at discount prices.
About GlobeLongboards.com
We at GlobeLongboards.com want to provide everyone with brand name longboards and gear, at great discounted prices. We also have detailed, unbiased reviews of popular longboards and longboarding gear, that are all written by real longboarders. We are all longboarders ourselves and love to help out beginners and welcome them into the longboarding family. We have boards, protection gear, reviews, beginner tips, and videos to check out on our site. So anyone who needs some new gear, or anyone who wants to learn a great new hobby, can visit GlobeLongboards.com and find exactly what they are looking for.