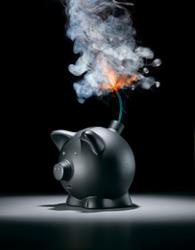 Saving money on pay per click management by hiring untrained people for less and losing your business in the process is really not worth it.
Reno, NV (PRWEB) October 05, 2012
Pay per click management firm Webrageous has found increasingly that advertisers are turning to its ppc experts to fix damaged pay per click campaigns after taking the advice of cheap and unqualified scam artists.
Webrageous Marketing Director David Chapman said the nature of online marketing has led unqualified pay per click marketing opportunists to take advantage of a need for pay per click help by offering fanciful promises of being able to boost sales and conversions.
Unfortunately, it can be difficult for many advertisers to distinguish the good eggs from the bad eggs online and it is their businesses that suffer. The importance of hiring qualified and experienced pay per click managers is second to none.
That is why Webrageous has decided to share the experience of one of its clients whose business nearly went under if it weren't for the help of the qualified pay per click managers at Webrageous.
This particular client, who shall remain unnamed, was seduced by offers from a so-called pay per click management company of being able to turn clicks into conversions in a matter of seconds and of "guaranteeing" the top spot on the search engines.
The company was also offering a special cheap deal for people who signed on with them within a certain period of time.
"This is a trick that seduces far too many advertisers today," Mr. Chapman said. "Spending less on pay per click management does not mean that an advertiser is going to save money in the long run. You cannot save on advertising by spending less on management.
"Promises of instant conversions and the top spot on Google are unbelievable at best. Managing a pay per click campaign requires a lot of hard work, constant monitoring and research, and trial and error. This cannot be achieved overnight.
"At Webrageous we use a wholistic approach. So we look at the long term as well as the short term and cover everything from keyword optimization and effective advertisement text to landing pages, utilizing your budget and everything in between. This type of management approach can only be achieved by experience, the appropriate qualifications and hard work and always benefits clients in the long run."
The client found that after a short period of time with the company, not only were conversions not improving but they were being advised to spend more and more money on their pay per click campaigns in order to win keyword bids that were too broad to be useful to their business.
The client told Webrageous that the company did little research before launching the company and little research in between. The advertisements were too flashy and in one case came dangerously close to having the advertiser banned from Google.
The trust that this client put in the company by handing over its pay per click advertising campaign nearly lost the client his business. Not only did they end up spending more on advertising without much consistent results but they also failed to follow advertising rules.
"Running a pay per click management campaign is just like running any other business," Mr. Chapman said. "If you go for the cheap option and skimp on quality and don't comply with the industry regulations your business will fail.
"You cannot expect a restaurant to hire poorly trained and inexperienced chefs, serve sub-standard food and ignore health regulations and run a successful business. The world doesn't work that way and the online world is no different."
Mr. Chapman said some of the pay per click traps that some advertisers fall into when running a campaign by themselves or with inexperienced management include:
1. Failing to optimize campaigns or test advertisement text
2. Using common keywords and failing to research keywords
3. Leading people to landing pages that aren't related to the business's advertisements
4. Not utilizing their online advertising budget or exceeding it
5. Failing to optimize websites and landing pages
6. Targeting to too broad an audience or region
7. Not reading the rules and regulations on what gets advertisers banned.
"If your pay per click manager isn't trained in Google AdWords or doesn't have marketing qualifications then you need to know why," Mr. Chapman said. "The most basic thing you can do as a pay per click manager is read the relevant online advertising rules, find out what to do to avoid getting banned, and keep up with the latest rules and developments by the search engines.
"If your pay per click campaign suffers then you want to think seriously about who you have managing your online advertising."
Since signing on with Webrageous, the client has gone from nearly losing his business to being among the top of its field in its specific sector and region.
Webrageous constantly monitors its clients' campaigns. We will pick up on any changes in our clients' campaigns. We understand that managing pay per click campaigns is not easy and so we only hire fully qualified and trained professionals.
"Our pay per click managers are constantly looking out for keywords that aren't performing well, monitoring the ratio of clicks to conversions, seeing which advertisements aren't creating clicks, and keeping on the lookout for any possible click fraud," Mr. Chapman said.
"When it comes to pay per click management, you really cannot beat experienced and qualified professionals such as those at Webrageous. Saving money on pay per click management by hiring untrained people for less and losing your business in the process is really not worth it."
To find out more about the pay per click managers at Webrageous or on this particular client's and other client's experiences, visit the company's website: http://www.webrageous.com. To set up an interview with David Chapman, call 530-553-4111.