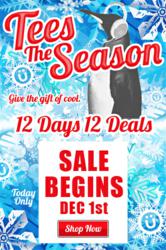 Last T Shirt Sale of the Year.
Chico, CA (PRWEB) December 04, 2012
The cheap t shirt sale is the biggest t shirt sale of the year. The 12 days of deals is a chance to make room for new tees, buy unique gifts, and save money this holiday season.
Tees the season for gift giving, and a new year in graphic shirt design. A favorite gift to give this holiday season are unique graphic shirt from Design By Humans. This is the last chance of the year to take advantage of low prices on t shirts. Each day there will be a new sale or coupon code for 24 hours each day for 12 days.
Free Shipping on International Orders over $125
For the first time this year there is free shipping on international orders if you buy $125 in shirts. Any order shipped outside the United States will be available to be shipped for free. International shipping can cost and extra $15 to $30, for the entire 12 day T shirt sale there will be free shipping on all international orders.
The 12 days t shirts sale will be the last sale for Design By Humans of 2012. The shirt sale will clear out enough room for next years list of great contests and new shirts. There will be sales on tee grinds, women's shirts, even special categories.
How to stay up to date on this year T Shirt Sale
Sign up for email updates, like DBH on Facebook, follow us on twitter, or check designbyhumans.com for the new daily deal.
Egift Cards when the Shipping Window is up
When time for shopping runs out, send an egift card. There are now egift cards that can be sent via email as a gift. Design By Humans gift cards are special vouchers sent via email to friends and family. Each egift card is confirmed by a customer service rep at Design By Humans, and ready for immediate redemption and purchase once they are sent. This is a great way to make sure they can get the gift they want.
This years close out sale is a creative sale event to count down the days before Christmas. The last days to order shirts is December 12th to receive the discounts and free shipping for Christmas. If overnight shipping is selected the last day to buy is the 19th.
There will be 12 days to buy a new graphic shirt for the holiday's on this Design By Humans end of the year close out event.