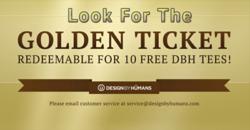 With the success and growth of the company, we are celebrating with 30% off and Golden Tickets
(PRWEB) September 01, 2012
In celebration of Design By Humans exponential growth and aggressive redevelopment as a company, there is a huge T Shirt Give A Away. 30% off when using coupon code DBHGOLD. In addition to 30% off, there will be 10 golden tickets placed in order packages over the next 10 days. If a customer receives a golden ticket they will receive 10 free shirts. Finally, capping off the promo, will be a T Shirt Give A Away for engaged DBH social media contributors.
30% off coupon code, Golden Tickets, and the social media throw down. 1 free t shirt to give a away to a facebook fan, twitter follower, or instagram pinner…. Chances are if you're actively posting, commenting, pinning you'll have a higher chance at winning a free shirt. Visit the DBH facebook, and Twitter for more. #DBHGOLD
Golden Ticket Promo

Save 30% off with Coupon Code DBHGOLD
10 Golden Tickets place in Ordered Packages, Each Worth 10 Free Shirts
30 Free Shirts to Give A Away for best social plug from Facebook, Twitter, Pinterest
best post, comment, hashtag, pin each day on DBH networks receives a free tee.
post something golden at #dbhgold
"We are rewarding the fans and customers for their continued support for Design By Humans. We are excited to see the company grow as it has, with better competitions, more fans, and more site features."
Growing out of start up mode to a top competitor in a thick and competitive T Shirt market. In March, Design By Humans had 30k Facebook fans now as of August 30th, there are 100k fans. It's time to celebrate the growth and give back to the network.
This is a fun and entertaining way to celebrate, one directly to the customer with 30% off everything. Two, a fun game for the fans to see if they receive a gold ticket in their order. Three, get yourself involved in the social media channels, post a tip, critique, some entertaining that will be useful to the DBH community. #DBHGOLD
If you are a Golden ticket winner, contact customer service with a picture of you and your ticket. There will be a prize package sent to the winners. All other winner will be contacted from Design By Humans, via they channel they posted or email.
Meanwhile shop Design By Humans for the best in unique t shirts. Artfully designed, creative and unique style t shirts. Submit t shirt designs to compete for cash prizes, or help vote the shirt of the day winners