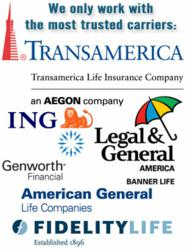 Individuals can often get coverage earlier with a no exam quote, locking in rates before a birthday increase.
St. Louis, MO (PRWEB) August 15, 2012
One of the first steps in purchasing cheap term life insurance is to receive a quote. Life insurance quotes can be confusing because they are not guaranteed. Typically, quotes are requested before people go through the application process. Until an evaluation is completed, the life insurance company is not bound by the quoted price.
Life insurance quotes provide an individual with the most accurate prediction of what he or she will eventually pay. Unfortunately, this is not an exact science. Life insurance companies must consider several factors when evaluating an individual for new coverage. Life insurance companies look at obvious factors such as your age, sex, health history, and whether you use tobacco. In addition, they look at less obvious factors such as your finances, your family health history, your driving record, and your criminal history.
Part of the life insurance evaluation process is determining if you will have to take a medical exam. Many people do not realize a few life insurance companies will offer new coverage to healthy individuals without having to take a medical exam. If you don't have any serious medical conditions, such as HIV, cancer, or diabetes, then you are probably eligible for no medical exam life insurance. In fact, most people without health problems qualify.
The main benefit of no exam life insurance is you may get qualified and begin new coverage much quicker than applying for a policy requiring a medical exam. The speed of the process may be attractive to someone who is trying to obtain new coverage within a certain deadline, such as locking in a rate before their next birthday. Individuals who feel getting a medical exam is too much time or trouble may also benefit.
Not everyone qualifies for no medical exam life insurance since this is not a guaranteed-issue type of contract. If you decide on applying for a policy, there will be documents to sign. One of the documents will ask specific questions regarding your medical history. The life insurance carriers decide whether or not to approve each application based on the answers to these medical questions.
Ultimately, once the life insurance company has completed their evaluation, they will provide an offer, which will be the actual cost of the new coverage. Life insurance is an important decision for every family to consider and the cheapest term life insurance might not be the best fit. Those who are in good health may want to consider purchasing no medical exam life insurance. It is a fast, convenient, and hassle-free way to get coverage which will protect your family.