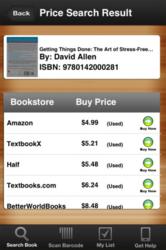 Jupiter, FL (PRWEB) August 16, 2012
Back to school 2012 is in full swing and TextbookLand has just launched its brand new TextbookMe iPhone app. Students can download the app for free and immediately begin searching for cheap textbooks from an iPhone or any iOS mobile device. With the upcoming school year quickly approaching, TextbookLand will help students save thousands of dollars with their brand new cheap textbook search engine.
"College can be extremely costly and we know that textbooks cost students an arm and a leg." says owner David Batchelor. "The goal of TextbookLand's new iPhone app is to allow students to compare textbook prices and find the absolute best value directly from their mobile phone."
The TextbookMe iPhone app by TextbookLand is available to download for free via the iTunes store. Searching for cheap textbooks is extremely easy and only takes a matter of minutes. Students can enter the title, author or ISBN and the app will immediately display a textbook price comparison list. For more tech savvy students, TextbookMe also has the option to scan the barcode of a textbook.
Save thousands of dollars during the upcoming school year by finding cheap textbooks via the free TextbookLand iPhone app - download the cheap textbook search engine today from iTunes.
About TextbookLand
TextbookLand was founded in 1999 and offers students a free search engine to sell and buy used textbooks at the absolute lowest prices. The idea behind their new iPhone app is to allow students to compare textbook prices on the go and save as much money as possible during the upcoming school year.
For more information on how to start buying cheap textbooks online and their brand new textbook search engine for the iPhone, please visit http://www.textbookland.com or call (866) 437-3331. You can also email dave(at)textbookland(dot)com for additional information.
###