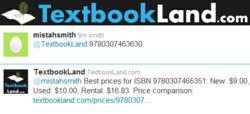 Jupiter, FL (PRWEB) January 11, 2012
TextbookLand is using the power of Twitter to help college students all across the country find and purchase cheap textbooks online. The new service is completely free to use and is quite a helpful addition to the great online price comparisons that the site already offers.
Buying textbooks in an actual bookstore is a thing of the past with TextbookLand's online price comparison search engine. The website currently serves up textbook price comparisons from all of the major online bookstores in seconds which allows students to buy cheap textbooks online and save a ton of money – best of all, the service is absolutely free to use!
With the new Twitter integration, students can now tweet the ISBN number to @TextbookLand which will instantly reply with the cheapest new, used and rental price for the textbook and a link to purchase it online – it's extremely fast and easy.
"Almost everyone uses Twitter nowadays, so we wanted to integrate its tremendous internet reach with our comprehensive cheap textbooks search engine" says owner David Batchelor.
Use the power of Twitter combined with the extensive database of cheap textbooks that TextbookLand has to offer to save thousands of dollars on college books every semester. Who knew that tweeting could save students tons of money?
Start saving today by following @TextbookLand on Twitter and searching for the ISBN # of the college textbook that needs to be purchased via tweet.
About TextbookLand
TextbookLand is a search engine for students to sell and buy cheap textbooks online. The company was founded in 1999 and hopes that their new Twitter search integration will help make buying, selling and renting used textbooks online even easier than before.
For more information on how to start buying cheap textbooks online, please visit http://www.textbookland.com or call 866.437.3331. You can also email dave(at)textbookland(dot)com for additional information.
###