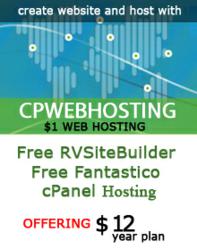 Cheapest Hosting Provider
What actually is the Bandwidth and Webspace Requirement for a normal site
CPWebHosting.com provides the cheapest Hosting Plan
Miami, FL (PRWEB) April 05, 2012
CPWebHosting offers $1 hosting plan for startup web sites, small web directories, blogs, personal, and business e-commerce websites. Web Hosting services offered are cheap and deliver the most affordable domain Web Hosting packages, with free Web site Builder, Fantastico, CPanel Control Panel, 24 x 7 customer and technical support on Linux platform. CPWebHosting.com has now become the cheapest web hosting company offering a complete hosting package for just $ 12 a year.
Hosting industry from the last decade has shown lot of changes and has become the most rapidly changing industry. Developers and designers have traveled the path from the simple HTML sites to the e-commerce websites. Technologies have changed a lot and given a better chance for a basic level individual to develop website. $1 Cpanel Web Hosting is designed for the end users and allows them to control everything from adding, removing email accounts to administering MySQL databases. It is provided with a very user friendly graphical interface and automation tools designed to simplify the process of hosting a web site.
Web hosting needs differ according to the variety of options available in the market and it is dependent on the crucial aspects of price, bandwidth and web space. CPWebHosting $1 Hosting Plan is a great option for most web based businesses. It is offered with maximum flexibility with reduced maintenance responsibility and is ideal for customers with limited technological skills.
Compare the plans provided on the two different websites to assist customers for choosing the best hosting plan to setup a website.
Take the Business hosting plan of cpwebhosting.com, which is said to be the cheapest plan in the hosting industry, and the plans given on the linuxhost.net, which seem to be quite healthier in terms of cost. Consider the features of each plan:
Resources CPWebHosting.com(Business Hosting)
Web Space: 1 GB
Bandwidth: 5 GB
Websites: 10
Price: $ 1.45 per month i.e. $ 17.4 per year
Business Starter Hosting of LinuxHost.net
Web Space: 5GB
Bandwidth: 50 GB
Websites: 10
Price $ 7.95 per month i.e. $ 95.4 per year
Now, for a beginner just starting, a website or normal websites do not have traffic more than 100 visitors a day and each visitor visiting 5 pages, let us calculate the Bandwidth Requirement using csgnetwork.
Site Viewers per Day 100
Site Pages per Viewer 5
Site Average Page Size 100KB
Site Traffic (Approx. Bandwidth Requirement) 48.28 MB per Day
1.45 GB per month.
If requirement increases, extra bandwidth or web space will cost $0.5/GB/month. If 500 visitors are expected in a day, then approx. 7.2 GB is required. Suppose, it is being asked to increase the 3GB bandwidth per month then the cost per year will be increased to $35.4 per year i.e. $2.95 per month.
It is quite imaginary that designers, developers and beginner hosting customers think that their website is going to get lot of visitors, but does this really happen? Research shows that a normal website receives 200 visitors per day.
Web space of 1GB is more than sufficient to have a good script loaded with database functionality. Normally, a medium to small website will have a space of 100 to 500 Mb of Web Space. The Space is mainly consumed by the Data Base and Pictures. The Web space capacity can be finalized based on the amount of data and database that the client is using to create the website.
Cpwebhosting.com announced that it has advanced its hosting platform by aggressively increasing specifications on all of its shared hosting packages. In addition, a number of new tools have been added to its control panel.
New addition Fantastico is feature-rich shopping carts, photo galleries, discussion boards and WordPress blogs are becoming very popular among customers. A $1 Hosting plan is announced to cater the growing the growing demand of customers explains Jim Partner, president of sales.
Since 2002, Cpwebhosting.com (one of the fastest-growing hosting companies in the world) is serving customers in over 120 countries. Its core product offerings include Business Hosting, $1 Hosting, Monthly Hosting and Business Pro Hosting. To learn more about cpwebhosting.com please visit http://www.cpwebhosting.com
Contact:
Jim Partner-
Vice President of Sales-
Cpwebhosting.com