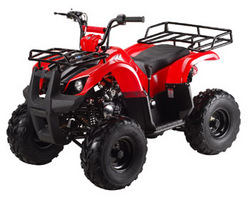 Offering the same Big Name Brand Fun, But at Half the Big Name Brand Price tags.
Madison, WI (PRWEB) March 13, 2010
Offering cheap low priced kids ATVs, utility ATVs, dirt bikes and go karts is a plus, but to also offer free shipping anywhere in the USA is a just great deal.
Q9 PowerSports, LLC of Madison, Wisconsin, is doing just that. They have been selling affordable powersports equipment all over the country for over 6 years and they now have multiple parts warehouses across the nation.
Jeremy Kuehni, the head member of Q9 Powersports says, "The company's mission statement is to simply 'Provide Safe Affordable family fun and Great customer service.' and that has kept Q9 Powersports growing every year. Why pay thousands of dollars for a kids ATV or dirt bike when they will more then likely grow out of it, in just a couple of years. It's all about providing affordable fun, so everyone has a chance to enjoy Atv's and Dirt Bikes and have fun."
There are Utility Atvs to fit people of every age. Small machines for the kids and large machines for the adults. This make including everyone in the family easy to do, even for hunting or just trail riding.
Shipping is available anywhere in the USA, right to any residential address. The best part is that Shipping is always FREE of charge. Q9 PowerSports is a Trusted Accredited BBB Business member and they stan behind their machines with a 6 month warranty. Visit their website at or call them Toll Free and speak to one of their sales staff at 1-888-252-9250.
# # #