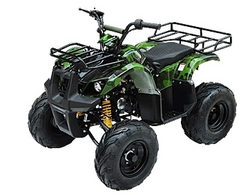 Q9PowerSports.com is making Atv fun, affordable for everyone.
Madison, WI (PRWEB) June 4, 2010
Lets start out by stating the facts, Cheap Atvs are made from the same high quality materials the name brand uses in their Atvs, but they are just sold at wholesale prices. When you buy a name brand Atv from the dealership you are paying for the name, the franchise fee's, the sales staff's commissions and all kinds of things that are not even related to the Atv itself. On Q9's cheap priced Atvs you may see a generic name, but many of the generic cheap atvs out there are manufactured by the same large name companies such as Kawasaki and Yamaha under unknown names. So much like generic prescription drugs the customer ends up with the same quality machine at the cheaper wholesale price. Q9PowerSports.com is making cheap atv's affordable so everyone can enjoy the excitement of powersports fun.
First, buy an appropriate sized ATV. Q9PowerSports has ATV's from 110cc for Kids ATV's up to 250cc Utility Atvs . All too often parent's want to buy an ATV that is too large for children thinking their kids will grow into that ATV so they don't have to buy another Atv so soon, everybody can relate to this, but safety is the most important thing. ATV's are so reasonably priced these days that you can purchase a 110cc ATV for around $600. Please allow your child to learn how to ride on a size appropriate ATV or Dirt Bike and once they have mastered the mechanics for safe ATV riding ,move them up in size. Small ATV's hold their resale value and you will be able to recoup those costs while keeping your child safe.
Most of the new line of ATV's come with fantastic safety features to keep your child safe while learning to ride such as throttle limiters or governors', which is a small screw attached to the throttle box that allows you to control the speed of the kids ATV. Also available are ATVs with remote controls, the remote allows you to start, stop and set an audible alarm on the ATV. If the child is driving towards a dangerous area and you want them to stop, you don't have to yell or chase them down, just hit the stop button also known as remote kill switch and the engine shuts off and the ATV comes to a gradual stop.
Q9Powersports cheap priced Atvs have become popular around the country for many men, women, boys, girls, Hunters, campers, fishermen, families, farmers, Government officials, Police, and Military personnel have all benefited from our lower cost cheap priced Atvs and machines for the past 6 years.
Cheap priced Atv's, All Terrain Vehicles, four wheelers or just plain Atv's have been around for a long time, it's just now they are starting to get affordable for everyone to enjoy and much like the internet brought down prices again at the brick and mortar stores it's starting to scare the name brand dealerships that have the huge overheads and have been over charging their customers for decades.
# # #