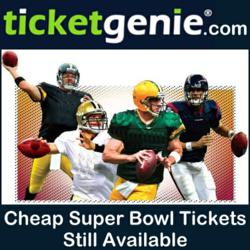 We still have tickets available and have created a special discount coupon to help lower the Super Bowl ticket price
Orlando, FL (PRWEB) January 24, 2012
As the Super Bowl date of February 5th of 2012 quickly approaches, tickets for the event in Lucas Oil Stadium become scarce. Being the first Super Bowl ever played in Indianapolis makes it even harder to get tickets at a reasonable price.
Fans planning on attending the 2012 Super Bowl may have a hard time finding cheap Super Bowl tickets and now it's the time to purchase 2012's most wanted game tickets.
Among the numerous locations where you can purchase the tickets, there are online retailers like TicketGenie.com that still have tickets available so fans don't have to buy Super Bowl tickets on the secondary market.
"We still have tickets available and have created a special discount coupon to help lower the Super Bowl ticket price", says TicketGenie.com CEO Patrick Poulin.
For the coupon information Fans would have to visit the website TicketGenie.com, where they can also find cheap sports tickets available for other events throughout the USA.
With the Super Bowl only one game away for most teams, the game fever is going around, and it's contagious. Super Bowl packages for the event in Indianapolis, IN are also still available from TicketGenie.com and are selling quickly because they're highly discounted.
A increasingly number of fans are also booking Super Bowl hotel rooms and getting tickets for Super Bowl parties.
With an extensive track record and many years in the ticket business, TicketGenie.com has BBB "A" rating and offers a 125% guarantee hard to beat.
The website is also a source for Concert tickets, Theatre tickets, Opera tickets, Broadway tickets so if you're not interested in cheap Super Bowl tickets you have other options.
The 2012 NFL Playoffs Power Rankings with 4 teams remaining after a weekend with some of the most amazing and exciting plays in the history of playoff football leaves us all now wondering which of the remaining teams will make it to the Super Bowl glory.
###