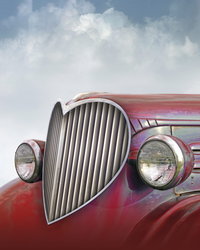 Given that we're a specialist broker, achieving such a high position is a real tribute to the professionalism of our staff
(Vocus) July 10, 2008
Adrian Flux Insurance Services of King's Lynn is celebrating another storming rise up the Auto Express car insurance Top 45 chart. Driver Power 2008 ranks the UK's car insurers as voted by 30,000 members of the public, focusing on four main categories: communication, helpfulness, value for money and overall performance. In the past year Flux has leapfrogged from 17th to 11th - just one place outside a Top Ten dominated, as you would expect, by big-spending household names like RAC and Lloyds.
Flux is best known for insuring niche markets such as modified cars, imports, kits and classics. "Given that we're a specialist broker, achieving such a high position is a real tribute to the professionalism of our staff," says Flux's operations director Gerry Bucke. Underlining the contribution made by Flux personnel is the fact that voters highlighted Flux's 'helpfulness' as a key factor in their success.
Auto Express described the company's performance as 'another impressive rise up the rankings' and commented that Flux could be even higher up the chart in 2009.
Says Gerry Bucke: "There's no doubt that the enthusiasm and knowledge of our staff plays a vital part in our growth and success - we're delighted that their contribution has been acknowledged in such an influential poll."
Adrian Flux aims to offer cheaper car insurance and has a huge range of policies for the motoring enthusiast. For details contact the Adrian Flux quote line on 0800 505 3000, email the company at quotes @ adrianflux.co.uk, or see the Flux homepage on http://www.adrianflux.co.uk .
PRESS ENQUIRIES:
Toni Turner or Alison Haynes at The Publicity Works
Tel: 01263 761000 Email: flux @ publicityworks.biz
Gerry Bucke of Adrian Flux Insurance Services: 0800 505 3000
# # #