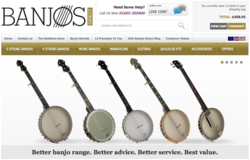 It's not necessary to spend crazy money to get a good beginner banjo.
(PRWEB UK) 31 May 2012
Many new banjo players are being misled by "false economy low prices" of very cheap banjos from non-specialist retailers who know very little about the instrument, says the founder of the UK's leading banjo shop Banjos Direct in a new guide to buying your first banjo.
The free 10-point guide, available to download from Banjos Direct, stresses that buyers should beware of buying banjos which are cheaply manufactured and poorly set-up by general music shops.
The banjo guide's author, Simon Middleton, who launched Banjos Direct in October last year, explains that new players should choose the best banjo they can afford from manufacturers who have a reputation for a real passion and commitment to the instrument.
"It's not necessary to spend crazy money to get a good beginner banjo," said Middleton.
"But to buy the cheapest instrument you can find is a false economy and will give you a disappointing result, with tuning that slips, an unpleasant tone, and uncomfortable playing: all things which can easily put the new player off the instrument completely," Middleton added.
Company information:
Banjos Direct is the UK's fastest-growing specialist banjo retailer, leading the renaissance of interest in the banjo amongst players of every age and background. The Norwich-based company is the UK's leading stockist of USA banjo brands GoldTone and Nechville, and also stocks instruments by Barnes & Mullins, Pilgrim and Tanglewood.
Founder and CEO of Banjos Direct, Simon Middleton, is frontman of English-Americana band The Proposition, whose debut album 'King Snake Devil Shake' was released this year. Middleton is also the author of several books on marketing and branding, including 'Build A Brand In 30 Days' and the new guide to personal reinvention 'Brand New You'.
Find Banjos Direct at http://www.banjosdirect.co.uk
Find Simon Middleton at: http://www.simonmiddleton.com
Email: info(at)banjosdirect(dot)co(dot)uk
Phone: +44 (0) 1603 305800