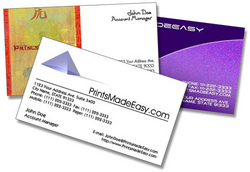 Printing business cards is an important branding decision
Los Angeles, CA (PRWEB) September 28, 2007
PrintsMadeEasy.com, the nationwide leader for business card design and printing solutions, today announced an extended offer for business professionals to order a sample of free business cards.
PrintsMadeEasy.com has provided a $14.99 discount for any customers wishing to take advantage of this complimentary offer. PME customers have the ability to fully customize their designs, receive stellar customer service, have their orders shipped quickly, and have a money-back guarantee on shipping and handling fees (if they are unsatisfied with their cards).
"Business professionals want a hassle-free experience, the flexibility to design their cards in real time, the support of qualified service professionals to proof their designs, and a quick turnaround time on their orders," PrintsMadeEasy.com CEO Brian Whiteman said. "That's not asking for much. We are committed to delivering on those expectations because we want our customers to know that all of their printing needs can be met on PrintsMadeEasy.com."
PME's free business cards offer eliminates the unnecessary gimmicks, surprises, hidden charges, and long waits that some individuals have experienced.
"Printing business cards is an important branding decision," Whiteman said. "It's important that our customers feel comfortable with their business card design. So, we want them to have that assurance before placing a large order and distributing them everywhere."
PrintsMadeEasy.com was honored for making the 2007 Inc. 5,000 list, specifically ranking #44 in the Business Services category and #829 overall. Inc magazine features a detailed profile online of PME's services, including its free business cards offer.
PrintsMadeEasy.com applies advanced technologies in digital manufacturing, along with high quality supplies, to assure total customer satisfaction. The company has a team of graphic artists dedicated to inspecting every customer order. If any obvious problems are discovered, the graphic artist may fix them immediately or contact the customer for prompt clarification. A quality assurance team tracks every order shipped to PME customers.
PrintsMadeEasy.com is the worldwide leader in online printing solutions for individuals and businesses seeking business cards, postcards, envelopes and letterhead. More information can be found at http://www.printsmadeeasy.com
###