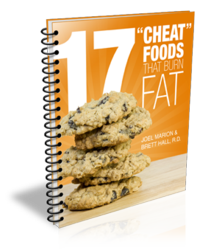 Atlanta, GA (PRWEB) November 09, 2012
BioTrust just launched a new and free report on 17 Cheat Foods That Help You Burn Fat and it certainly goes against the grain of the media and trainers all over the world.
Inside the controversial report, Joel Marion, co-founder of BioTrust tells his story of gaining weight and how he won a transformation contest while eating his favorite foods including pizza and other foods that are typically held in a negative light in the media and across the fitness industry. The controversial report also dissects how these so called "cheat foods" can help someone lose weight by managing a hormone called leptin.
Joel explains in detail how the hormone leptin works inside the body and by dieting for a prolonged period of time, this hormone's sensitivity is not high, forcing someone to hold onto unwanted fat.
This report explains how cheating can help someone lose more fat by increasing leptin sensitivity and leptin levels. The report is reviewed in this new video released from the popular resource website for bootcamp workouts and nutrition tips.
This report has been getting a lot of attention in the media and that is why the website decided to do an overview video on what someone can expect when they download the free report. The story of how Joel discovered the cheat foods diet trick is explained as well as going on the conventional diet can actually fail you. In fact, the report shows how Joel was in the gym 2 hours a day and not getting any results.
Download this incredible free report at http://CheatFoods.com