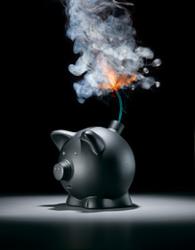 "One of the biggest problems with click fraud is that most advertisers don't even know it's happening," David Chapman, Director of Marketing at Webrageous, said.
Reno, NV (PRWEB) August 23, 2012
Webrageous, pay per click management company in Reno, Nevada, has developed a highly effective strategy to help advertisers combat click fraud. The company's move comes at a particularly important time in the online advertising industry as figures show that online click fraud is dangerously on the rise once again.
In a recent study conducted by Webrageous, data revealed that the number of online advertisers who are getting cheated out of hard-earned advertising dollars through online click fraud continues to rise.
"One of the biggest problems gathered from the results of the study is that most advertisers don't even know when click fraud is happening," David Chapman, Director of Marketing at Webrageous, said. "Advertisers who took part in the study had been assuming that poor ROI was simply due to a failing campaign. Online click fraud, which was the real root of the problem, had not been suspected at all.
"Webrageous' study revealed that more companies are being robbed of their advertising dollars, more campaigns are being destroyed and more businesses are opting out of online advertising as a result. This is a crying shame as the benefits of online advertising such as pay per click (PPC) are endless," Mr. Chapman said.
Search engines are continually on the lookout for and fighting against click fraud and can normally detect any automated click fraud that occurs within online advertising accounts, but the investigations conducted by Webrageous reveal that the problem is more troublesome when online click fraud takes place on a smaller scale - ie: not automated.
Thanks to two months of testing with the participation of real clients and real pay per click accounts, Webrageous can now reveal that there are a number of routes all advertisers can take in order to protect online advertising campaigns from click fraud. The actions that Webrageous found to be most effective during the two month study are as follows:
Install a Captcha on Online Contact Forms
One clue that click fraud might be happening on your account is if you are receiving a large amount of fake or spam-type emails through the online contact forms on your website. It is possible that people are filling out the contact forms with false information in order to disguise any click fraud they may be partaking in, such as fraudulently clicking on your advertisements.
By installing a captcha on contact forms you will be able to stop robots from filling out the contact forms on your website. Installing a captcha is easy to do and may help your PPC managers detect where click fraud is happening on your accounts.
Track Internet Protocol Addresses
Checking what IP addresses clicks are coming from can be a great way of detecting click fraud. If you notice that many clicks on your advertisements are coming from the same IP address then this could be a sign of click fraud. Talk to your PPC management expert for further help.
Install Geographic Targeting Tools
By making your advertisements highly targeted to only the people you want to click on them you may also help cut out click fraud. Geographic targeting tools within PPC campaigns can help block your advertisements from appearing in certain countries. This will at least reduce the potential for click fraud on your accounts. If you notice click fraud is coming from one particular region, you can block this region from seeing your online advertisements through the geographic targeting tools offered in PPC advertising.
Look for Unusual Activity
Be on the lookout for any unusual spikes in clicks on particular keywords. If a keyword or search term normally generates around 20 clicks each month and you notice that the number of clicks has suddenly spiked to 1000 clicks, then this could be an example of click fraud.
Another thing to look for is dramatic differences between your click through rates and your conversions rates. This could be a quite obvious sign of click fraud.
Add IP Address Tracking Software
One step further is to install a software program that tracks the IP addresses of people who are clicking on your advertisements. By tracking down the IP addresses that are clicking on your website very frequently you can decide whether you want to stop your advertisements from showing up to these specific IP addresses. This means that they will still be able to visit your website but they won't be able to click on your advertisements.
This can be a very effective way of reducing click fraud without losing custom as most people who are so interested in your site that they continually click on it have probably saved your URL on their computer or will type your company name directly into the search engine. A PPC management expert will be able to recommend the best and safest software programs to use.
Outsource Click Fraud Protection to an expert
The best way to prevent and put a stop to click fraud is by outsourcing management of your online advertising campaigns to an expert in click fraud prevention, such as Webrageous Studios.
"Things like IP address tracking software and checking keyword clicks are a great way of stopping click fraud if you are more concerned about small publishers who are probably going to click on the advertisement from the same IP address," Mr. Chapman said. "Larger competitors will use automated scripts that simulate a consumer clicking on an advertisement which is where you want to have a click fraud expert managing your account.
"Also, there are few online advertisers who are going to have the time or energy to manually check IP addresses and review all of the keywords and search terms used in your online campaigns. It is a very involved and lengthy process. That is where Webrageous comes in."
Webrageous is an expert in click fraud and has prevented and stopped click fraud across numerous clients' accounts. All of Webrageous' PPC managers are highly experienced in techniques to prevent click fraud and to stop click fraud in its tracks before it has a major impact on clients' accounts. Webrageous has also had great success in the past of claiming back money from search engines for fraudulent clicks.
You can find out more information about click fraud and the expertise that Webrageous holds in preventing click fraud at the company website: http://www.webrageous.com. To organize an interview with David Chapman, call 530-553-1111.