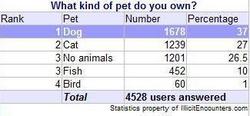 Our members' fondness for them probably reflects their collective need for affection and companionship
London (PRWeb UK) March 22, 2011
A new national survey has found that animal lovers are more likely to stray in their marriages.
The survey, conducted by married dating site IllicitEncounters.com, quizzed over 4,000 of its members on their choice of pet, only to find over 75% had pets at home. Statistically, only 47% of Brits own pets, dogs being the most popular animal (PFMA, 2010). However, research now reveals that cheating spouses buck the national trend, with the majority having at least one pet.
Of the respondents, 37% owned a dog (nationally this figure is just 23%) and 27% owned a cat (nationally this figure is 19%).
Sara Hartley, spokesperson for IllicitEncounters.com, says the results may surprise critics of the site.
"People would probably assume our members to be quite uncaring, or perhaps too busy to keep animals But in context, our members' fondness for them probably reflects their collective need for affection and companionship."
She continues, "People often choose to take on pets for comfort and assurance. If they're not getting affection and support from their partner, the unfaltering loyalty of a furry friend really could make a lot of difference."
The website, which launched in 2003, expects to hit 600,000 members in the next few weeks, representing 3% of Britain's married population. For more national statistics and case studies, please contact Rosie Freeman-Jones at presspr(at)illicitencounters(dot)co(dot)uk.
###