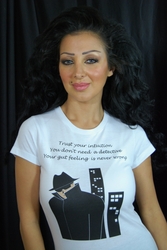 Just say no the Tiger Woods' of the world with the new online store, CheatingNot.com.
Los Angeles, CA (PRWEB) May 20, 2010
A brand new online store, CheatingNot.com, http://www.cheatingnot.com, is making a name for itself, putting into words what it's like to be a victim of the Tiger Woods' of the world. CheatingNot.com offers a completely original line of greeting cards and apparel for women and men. Victims now have a way to say exactly what they think of their cheater and proclaim it proudly on a T-shirt or baseball cap. And, family and friends can show their support with an empathy card -- CheatingNot.com offers 26 different designs.
The new online store helps empower people who have been cheated upon. "We believe in love, fidelity and honesty. We are proud of these values and are happy to proclaim them wherever we go," said CheatingNot President and CEO, Rozita Pourmoussa. "To anyone who has been cheated on, we feel your pain."
Cap and T-shirt designs range from funny to strong or defiant, declaring to the world they are sick of being a victim and ready to move on. All T-shirts are available in pre-shrunk 100-percent cotton, in women's sizes ranging from XS to XL, and in men's sizes from Small to 2XL.
CheatingNot.com's cards are designed to offer support and encouragement to anyone enduring a painful cheating experience, with messages like, "Stand strong, keep looking to the future or you will survive."
Rozita Pourmoussa co-owns the company with her sister, Giti Pourmoussa. The pair started coming up with original designs in 2007 and launched the site in December, 2009.
CheatingNot.com accepts credit cards as well as PayPal. Create an account, browse and start taking back your life. Like the saying on one of their T-shirts, "Remember, trust your intuition. You don't need a detective; your gut feeling is never wrong."
Now anyone who has been cheated on can announce to the world they're taking control of their lives. Sandra Bullocks of the world, unite, with http://www.cheatingnot.com.
Contact:
Rozita Pourmoussa
President and CEO
(818) 926-6769
###