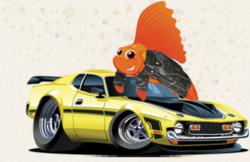 That's a scary statistic, considering that there could be many more errors on credit reports that can be costly if not corrected rapidly.
Sacramento, CA (PRWEB) December 20, 2012
RoadFish.com men's lifestyle and finance magazine issued their observations surrounding the recent report of a Sacramento mother who discovered a $16,000 credit error on her credit report, and had a difficult time getting the erroneous data removed. RoadFish.com urges consumers to check their credit scores at least once per year, when as mandated by the Fair Credit Reporting Act they are entitled to a free copy of their credit reports from the three major credit reporting bureaus, lest there be untrue data that needs correcting on the reports. RoadFish.com reasons that it actually might cost more money to let an error go uncorrected for years on a credit report, than to spend the minimum amount to check credit reports beyond the federally required free annual reports.
Kurtis Ming of Sacramento's CBS Local reported that Roseville mother, Heather Rose, found an erroneous $16,159 court judgment on her credit report and reached out to the CBS news team when she could not get it fixed on her own. Ming reported that Rose, who has been denied credit cards because of the tremendous blunder on her report, contacted the Roseville police, believing it might have been a case of identity theft. However the police concluded that it was mistaken identity rather than stolen identity.
Ming reports that Rose went on to reach out to Chase, the credit card company that was supposedly owed the money. Rose is quoted as saying about Chase, "They wouldn't even write a note that said, 'This is not the person.' They didn't want to touch it. So you know, 'We cannot answer your questions.'" After getting nowhere with Chase, Rose filed disputes with Equifax and TransUnion, two of the three major credit reporting agencies in the U.S. Rose is quoted as saying that she never heard back from either agency until after CBS Local got involved.
RoadFish.com looks to Rose's unfortunate situation as an example of why it is so important that consumers check their credit reports annually. RoadFish.com's Senior staff writer is quoted as saying, "The Consumer Financial Protection Bureau's recent study showed that less than one out of every five American consumers actually checks their credit score each year. That's a scary statistic, considering that there could be many more errors on credit reports that can be costly if not corrected rapidly. Errors that drag down credit scores negatively impact consumers' financial situations by eliminating the chance for them to be considered for low interest rates, and might even cause them to be denied loans, such as in Rose's case. It blows my mind that more people don't take advantage of our annual free credit report check. It's free! What's the issue? It could end up saving a lot of money down the road, not to mention time, stress, and effort. Especially with the CFPB on our side now, it's easier than ever to dispute a credit report error. It's a no-brainer to me."
Ming includes in the above-mentioned article a quoted from credit expert Al Bingham, who states, "The credit bureaus have never really been concerned about the accuracy in our credit reports." He stated that if the credit bureaus do not respond to consumer disputes, the FTC's Consumer Financial Protection Bureau is the place to turn. Bingham is quoted as saying, "The credit bureaus can be punished now, they can go in and fine them. And that's why the CFPB is really coming in and encouraging people to file complaints on this because they are the regulator now."
RoadFish.com reminds readers that mistakes can happen on anybody's credit report, that it is not a selective process, and that nobody is impervious to errors. RoadFish.com's Senior staff writer is quoted as saying, "There is no one who is immune from mistakes on their credit reports. Everybody needs to be doing credit checks, scrutinizing their credit reports for errors. Movie stars, professional athletes, even the President should be checking their credit scores annually. If you want to really dive in and work on not just correcting credit reports but also improving credit scores, apps like Debt Minder, Mint.com, and Manilla are fabulous ways to stay on top of managing finances, debt, and improving credit scores as you go. These tools are for everyone. Everybody has access to Experian's Score Planner Bret Michaels, Lindsay Lohan, Kobe Bryant, and every other American with internet access. The key, however, is to actually take advantage of the tools at your disposal and use them to your benefit, and the benefit of your financial house and credit score."
Fortunately for Rose, once CBS13 got involved, she received a letter from Chase stating that it in fact did not have any judgment against her, which she then copied and sent to all three credit reporting companies. Each agency has individually told her that the judgment is officially off her report now, news that is bringing her "great relief and a little breathing room," according to Rose in the above-mentioned article.
About RoadFish.com:
RoadFish.com is a popular online men's magazine, covering topics related to finance and lifestyle. The publication is targeted towards male readers in their 30's to 40's, most of whom are motivated on topics of finance and personal goals. RoadFish.com's articles include stories on trendy travel websites, restaurant reviews, and men's luxury items. RoadFish.com also dishes out financial advice, on areas such as personal finance, money management, and paying off credit card debt.