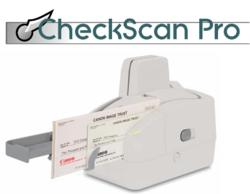 We developed and released CheckScan Pro to the market to meet the needs of banks, businesses and government agencies which process large volumes of checks.
Milwaukee, Wisconsin (PRWEB) April 10, 2012
Data Financial, Inc. has announced the first installation of CheckScan Pro in a US Veterans Affairs(VA) office. CheckScan Pro is a fully automatic, high speed check endorsement and imaging system with archival capability. Priced at less than one-half the cost of traditional high speed check endorsers, CheckScan Pro features unlimited endorsement selections with the capture of all images and check MICR data.
"Our VA customer needed to be able to efficiently prepare checks for deposit while also creating an archive for all checks handled," according to John Malaczynski, Manager of eCommerce Solutions for Data Financial, Inc. "We developed and released CheckScan Pro to the market to meet the needs of banks, businesses and government agencies which process large volumes of checks. Traditionally, check endorsement systems provide virtually no control and offer no resources for recordkeeping – CheckScan Pro does all of this efficiently and cost-effectively," according to Malaczynski.
Malaczynski further explained, "Our Veterans Affairs customer specifically needed to deposit checks to various user-defined endorsement formats. We accomplished this with CheckScan Pro while also enabling the user to locate processed checks simply by entering the checking account number. This efficiency is unique to CheckScan Pro."
Designed to be user installed and fully operational in minutes, CheckScan Pro users can expect to process checks for bank deposit in a high speed environment utilizing the quality of Canon check scanning hardware. An integrated auto-feed system enables processing of checks at a speed of up to 11,400 documents per hour with changeable endorsements on demand. CheckScan Pro reads and stores all MICR information for reporting and research.
CheckScan Pro was developed by Data Financial, Inc. in response to user demand for high speed, dependable check endorsing equipment. The system images both the front and back of each check with full research capability by MICR line. The product is available for use with any Windows based PC.
"The need for dependable check endorsing equipment is prevalent, even as many of our customers move to systems which electronically deposit checks," according to Jim Holtz, President of Data Financial, Inc. "There is clearly a significant need for check endorsing equipment among many industries, including charitable organizations, insurance companies, manufacturing and medical facilities," Holtz said.
Holtz continued, "We knew that check endorsing was a necessary, manual task being done daily throughout business and industry. While in product development, we learned that imaging the check while it is being endorsed would be a welcome addition." The scanning of both the front and back of the check, along with the read of the MICR information provides a permanent record and many research opportunities.
CheckScan Pro is available on line at http://www.datafinancial.com/store and is fully supported by Data Financial, Inc. The product is shipped free of charge and is furnished with a one year comprehensive warranty. Data Financial, Inc. offers free customer trials.
About Data Financial, Inc.
Founded in 1983, Data Financial, Inc. provides products, systems solutions and custom software to commercial, banking and gaming customers. A consulting and technical staff advises customers about check processing products and software, currency and cash products, document security solutions, archive tools and system and software design to meet specific financial and business needs.