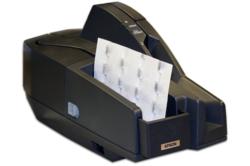 Check scanner cleaning cards help extend the overall life of a check scanner.
Danvers, MA (PRWEB) May 31, 2011
With check scanner failures on the rise, POS Supply Solutions, Inc. (POS Supply) is now offering check scanner cleaning cards as a simple, low cost and effective means of cleaning check scanners.
Using a check scanner system helps save time and significantly increases productivity. In order to ensure scanner accuracy, a check scanner must be properly maintained. As checks are scanned and endorsed, contaminates such as dust, dirt, paper particles and inks will begin to cloud the optic lens, which allows the imaged check to become a legal document for check clearing. If not properly maintained, a check scanner could potentially misread a check leading to incorrect routings and account postings, which in turn leads to financial losses and customer dissatisfaction. To avoid errors and high cost part replacement, a growing number of financial institutions are incorporating cleaning cards as part of their preventative maintenance plan.
As it transports through the check scanner's paper path, a check scanner cleaning card will clean the sensitive magnetic heads, lens and transport rollers without having to dismantle the equipment. When used as a consistent maintenance product, these cleaning cards will keep a check scanner performing as designed. POS Supply's check scanner cleaning cards have been endorsed and approved by leading manufacturers, such as Canon, Epson, Panini and Seac Banche.
"Check scanner cleaning cards help extend the overall life of a check scanner." said POS Supply's President Stephen Enfield. "In order to ensure accuracy and consistent performance, we recommend that the product be used once per week or after 2,000 checks scanned."
The Canon Check Transport Cleaning Card, featuring Waffletechnology® is specifically designed to maintain the Canon CR-25, CR-55, CR-135i, CR-180, CR-180ll and 190i check transport models. This superior cleaning card is embraced by Canon to outperform the standard flat style cleaning cards.
The Epson CaptureOne™ Cleaning Card is designed to remove contaminates from the lenses, MICR read heads and pathways within the Epson CaptureOne™ Check Scanner and features Waffletechnology. This superior cleaning card is endorsed by Epson to reduce the amount scanners that are opened for routine cleaning maintenance.
The Panini Check Scanner Cleaning Card with Waffletechnology was developed and approved to clean Panini VisionX™, My VisionX® and I:Deal™ check scanners and is the only preventive maintenance cleaning card on the market that can successfully maintain Panini Check Scanners.
Waffletechnology is an advancement in cleaning card technology. The Cleaning waffles are flexible raised platforms that allow the card to clean previously unreachable areas within the check scanner. More dirt is removed and the check scanner is cleaner and more reliable than ever before.
POS Supply offers a comprehensive line of technical cleaning cards for a variety of industries. All products are in stock and available for immediate delivery. Customers can order technical cleaning cards from POS Supply Solutions with total confidence that they are receiving premium quality products at a great price.
About POS Supply Solutions
POS Supply Solutions provides point of sale and transaction supply solutions, serving a full spectrum of hospitality, retail, financial, gas station, medical, wireless and business transaction applications. Established in 1999, POS Supply Solutions' corporate facility is located in Danvers, MA with distribution warehouses strategically located across the United States. Over the past 11 years, POS Supply Solutions has worked with thousands of individuals and companies to ensure they receive the point of sale supplies needed for successful and efficient business operations.
Contact:
Alethea Copelas
Product Marketing Specialist
POS Supply Solutions
(978) 406-4230
acopelas(at)possupply(dot)com
http://www.possupply.com
###