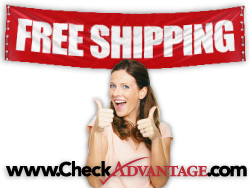 Free shipping is an incentive that shoppers have come to expect, so we're giving it to them.
Appleton, WI (PRWEB) January 10, 2012
CheckAdvantage, a leading online supplier of cheap personal checks, is pleased to announce that in 2012, customers will no longer have to pay for shipping.
"Our customers have been asking for a free delivery option for quite some time. We believe that being responsive on this issue will help distinguish CheckAdvantage from our competitors," said Brock O'Leary, Internet Marketing Manager for CheckAdvantage.
"Of course, CheckAdvantage customers can still request expedited shipping at an additional charge if they need their order sooner than 11-15 business days," O'Leary continued. "We just wanted to give a break to those shoppers who aren't in a big hurry to get their checks."
Last year, Internet marketing research firm comScore found that 49 percent of online transactions include free shipping, and that 61 percent of consumers are likely to abandon their shopping carts when free shipping isn't offered. (Source: Luke Knowles, Free Shipping eBook, FreeShipping.org)
Besides free shipping and a huge selection of over 1,500 exclusive styles, CheckAdvantage also boasts its Iron Clad 100% No Fine Print, You Can't Lose Guarantee, which promises free reprints on incorrect orders, regardless of who made the mistake.
"Our mission is to deliver top-notch service and value. We fix all errors for free because we want to delight our customers—it's just that simple," said O'Leary.
Though writing a check is no longer the most prevalent way to pay, consumers who use personal checks say there are times when nothing else will do. For instance, many people like to make their church tithes or other charitable donations in check form, simply because those types of institutions usually don't accept debit or credit cards. Plus, nothing beats a cancelled check for proving expenses during an IRS audit, or for settling a dispute over child support, for example.
When CheckAdvantage got into the personal checks business in June 2010, it offered just 100 unique designs. Having dramatically expanded its product line over the past 18 months, the Appleton, Wisconsin-based business is poised to claim a bigger piece of the personal check market in 2012.
"Free shipping is an incentive that Internet shoppers have come to expect, so we're giving it to them," O'Leary concluded.
About CheckAdvantage:
The CheckAdvantage vision is to become the top online supplier of personal checks and business checks by offering quality products at affordable prices with unbeatable customer service.
###