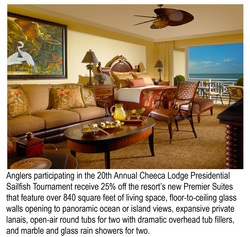 Sportfishing Capital of the World.
Islamorada, Florida Keys (PRWEB) September 18, 2009
Ringing in its twentieth year at the resort, the Cheeca Lodge Presidential Sailfish Tournament returns to Cheeca Lodge & Spa from January 21-23, 2010 in Islamorada, FL. The tournament, which was canceled last year due to a fire at the resort in January 2009, heads back to Cheeca Lodge, which will be reopening December 15th.
This year, events will be held in the new 1,800 square foot oceanfront ballroom, part of the new Main Lodge that also includes two new distinctive restaurants and new 840-ft Premier Suites, the largest in the Florida Keys. For tournament anglers, Cheeca Lodge & Spa is offering a 25% discount on their new Premier Suites or Luxury Suites. Rates start at $239 per night for Luxury Resort View Rooms and $449 for a Premier Suites when staying a minimum of three nights. Proceeds from the event's signature drink will benefit the Islamorada Fishing and Conservation Trust (IFACT) which supports and encourages conservation projects, including the protecting, preserving and restoring of water quality, flats, marine life, sea grass, reefs and mangroves surrounding Monroe County, Florida. Sponsors of the 20th Annual Cheeca Lodge Presidential Sailfish Tournament include Vineyard Vines, Bacardi, Caribe/Yamaha and World Wide Sportsman. For reservations at Cheeca Lodge, please call 800-327-2888 or visit http://www.cheeca.com.
About the Cheeca Lodge Presidential Sailfish Tournament:
The Cheeca Lodge Presidential Sailfish Tournament is part of the Florida Keys Gold Cup Sailfish Championship and the World Billfish Series. Through January 3rd, participation in the tournament costs $695 for the first participant and $645 for each additional participant up to four and includes entry fee, gift bag, two dinners and two drinks per dinner. Visit http://www.cheeca.com/fishing-and-recreation to download the official tournament entry form and tournament rules. Forms may be submitted to presidentialsailfishtournament@cheeca.com or faxed to 305-664-2893. For more information on the 20th annual Cheeca Lodge Presidential Sailfish Tournament call Liz Hill, Tournament Director, at 305-451-5094.
About Cheeca Lodge & Spa:
Cheeca Lodge & Spa is set on a 27 acre private estate in Islamorada, the "Sportfishing Capital of the World." Reopening December 15, 2009, Cheeca is being constructed with its original porte-cochere entrance, classic Florida Keys architecture, chic West Indies décor, and spirited tradition of "barefoot elegance" -- a term coined at Cheeca - all intact. A highlight of Cheeca's 212 beautifully appointed guestrooms, suites and bungalows are the 62 new Premier Oceanfront and Island View Suites that will offer over 840 square feet of living space, floor-to-ceiling glass walls opening to panoramic ocean or island views, expansive private lanais, open-air round tubs for two with dramatic overhead tub fillers, and marble and glass rain showers for two. Cheeca's new Main Lodge will boast two distinctive restaurants - Nikai Sushi Bar offering the Florida Keys' freshest sushi, Asian-inspired fare and a unique selection of Japanese sake and wine, and Atlantic's Edge with a seasonal fine-dining menu of fresh local seafood, prime steaks and organic local produce. Other features include the Spa at Cheeca, poolside cabanas, Tahitian-style Spa Lagoon, adults-only lap pool and an oceanfront tiki hut for al fresco treatments. Cheeca will also be unveiling 2,400 square feet of new retail space with a Cheeca Signature store featuring Tommy Bahama products, an exclusive Club Floor & Deck, and over 4,500 square feet of expanded conference space to include an exquisite 1,800 square foot oceanfront meeting room. The resort's signature features also include a classic 525' wooden fishing pier, saltwater snorkeling lagoon, Jack Nicklaus-designed golf course, and Camp Cheeca children's environmental activity program. The unique setting, tradition of laid-back elegance, and reputation as an exclusive hideaway has drawn everyone from past presidents and sports heroes to Kevin Costner and Salma Hayek.
# # #