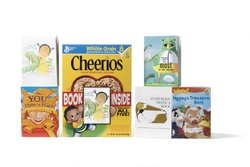 tricycles, bicycles, horses, elephants, goldfish, three-room playhouses, fire engines or wind-up dragons
MINNEAPOLIS (PRWEB) November 12, 2007
In addition, Cheerios is again working with First Book, an award-winning children's literacy nonprofit, to give a year's worth of children's books to 50 reading programs serving disadvantaged children across the country. Over the past six years, Cheerios has donated more than $2.5 million to support First Book and its mission: to help get brand new books to children from low-income families.
"As an elementary school teacher, I was saddened by how many of my students didn't have any books at all at home, let alone high quality books to which they could relate," said Jacqui Robbins, author of The New Girl...And Me, one of the books featured inside boxes. "That's part of why I started writing and why I love this program. Cheerios Spoonfuls of Stories and the work of First Book are getting great books into children's hands. But we have so many more children to reach."
This year's book offerings from Cheerios are five great titles from Simon & Schuster Children's Publishing, including a book that Cheerios had specially printed in both English and Spanish. The book titles are:
-- The New Girl . . . and Me by Jacqui Robbins, illustrated by Matt Phelan: This picture book by first-time author Jacqui Robbins tells the story of Mia and her classmates as a new girl, Shakeeta, comes to join their class. Mia reaches out to Shakeeta after the class bully and other kids exclude the new girl from their soccer game. Children will readily relate to this story, as Mia learns more about Shakeeta, her pet iguana, Igabelle, and how to make a new friend. Cheerios had this book specially printed in both English and Spanish. For ages 4-7.
-- Everybody Needs a Rock by Byrd Baylor, illustrated by Peter Parnall: The striking illustrations of reknowned artist Peter Parnall beautifully illustrate Byrd Baylor's timeless and universal story that whether or not children have "tricycles, bicycles, horses, elephants, goldfish, three-room playhouses, fire engines or wind-up dragons" to play with, EVERYBODY needs a special rock of their very own. Byrd's "Ten Rules for Finding a Rock" helps celebrate the beauty of nature that can be found all around us, and the joy of discovering it for ourselves. An ALA Notable Children's Book. For ages 4-8.
-- Things that are most in the world by Judi Barrett, illustrated by John Nickle: What are the silliest, wiggliest, longest, hottest, jumpiest, prickliest things in the world? This picture book captures children's imagination as Barrett and Nickle explore superlatives through lively prose and bright, engaging illustrations. For ages 3-7.
-- Do YOU Have a Hat? by Eileen Spinelli, illustrated by Geraldo Valerio: This colorful book celebrates hats of all kinds and provides support to parents who are tired of saying, "Where's your hat?" as their children head outdoors. Celebrate composer Igor Stravinsky's green beret, Abraham Lincoln's stovepipe hat, Carmen Miranda's towering hat of fruit, and more, all interspersed with the lively refrain, "Do YOU Have a Hat?" This book will have your family talking about their favorite hats - and children and adults will likely learn something about famous historical figures -- and the hats they wore. A Junior Library Guild Selection, a Carolyn W. Field Award from the Pennsylvania Library Association, and selected for the Kansas State Reading Circle Primary Titles and the Virginia Young Readers List. For ages 3-6.
-- Jakers!(TM) Piggley's Treasure Hunt adapted by Catherine Lucas, images by Entara Ltd. In this book, featuring characters from PBS's popular Jakers! television show, Mr. Winks the Dad shows Piggley, Ferny and Dannan that chores can be fun. Mr. Winks sends Piggley and his friends on a treasure hunt - and when the treasure hunt is done, the chores are, too! For ages 4-8.
One of these paperback books will be available inside each Cheerios cereal box marked "Spoonfuls of Stories," expected to be on shelves between November 2007 and early spring 2008. The books, which are specially sized to fit inside cereal boxes, feature all the original content and illustrations. Families can see which book is in the box through a special cut-out window on the front of the box - so they can pick the exact book they want, or collect all five titles. And boxes will also feature information on how to make your own online donation to First Book, to help get brand new books to children from low-income families.
"In disadvantaged communities, helping even a single child learn to read can help stop the cycle of poverty in that family for the next generation," said Kyle Zimmer, president of First Book. "Studies have shown that the only measure that correlates significantly with school reading scores is the number of books in the home - and yet, appallingly, in many low-income communities there is just one book for every 300 children. Thanks to the ongoing financial support and partnership with Cheerios, we are not only getting more books to children who need them, but more people are aware of the need and the importance of making sure that children have books to read."
"We hope that by continuing to provide high quality books for children right inside boxes of Cheerios cereal, and providing financial support to First Book to get books to children from low-income families, we are doing our part to help make books and reading a very special part of every child's life," said Ricardo Fernandez, marketing manager for Cheerios.
For information, see http://www.spoonfulsofstories.com or the specially marked box of Cheerios cereal on your breakfast table.
ABOUT CHEERIOS
Cheerios, America's No. 1 cereal, debuted in 1941 as Cheerioats. The nation's first ready-to-eat oat cereal has since become one of the most trusted and recognized brands in America. In fact, one of every 10 boxes of cereal sold in America is a box of Cheerios. General Mills' popular franchise includes Cheerios, Honey Nut Cheerios, Frosted Cheerios, Fruity Cheerios, Apple Cinnamon Cheerios, MultiGrain Cheerios, Berry Burst Cheerios and Yogurt Burst Cheerios. Cheerios also has a publishing division that includes the popular Cheerios Play Books and other activity books. For more information, go to http://www.cheerios.com.
ABOUT FIRST BOOK
First Book is a national nonprofit organization with a single mission: to give children from low-income families the opportunity to read and own their first new books. Through hundreds of local Advisory Boards, the First Book National Book Bank, and the First Book Marketplace, the organization provides an ongoing supply of new books to children participating in community-based mentoring, tutoring, and family literacy programs. First Book has provided 50 million new books to children in need in thousands of communities nationwide. For more information about First Book, please visit http://www.FirstBook.org.
ABOUT SIMON & SCHUSTER
Simon & Schuster, a part of the CBS Corporation, is a global leader in the field of general interest publishing, dedicated to providing the best in fiction and nonfiction for consumers of all ages, across all printed, electronic, and audio formats. Its divisions include Simon & Schuster Adult Publishing, Simon & Schuster Children's Publishing, Simon & Schuster Audio, Simon & Schuster Digital, and international companies in Australia, Canada, and the United Kingdom. For more information, visit our website at http://www.simonsays.com.
ABOUT NATIONAL CHILDREN'S BOOK WEEK
An annual celebration begun in 1919, National Children's Book Week introduces young people to authors, illustrators, and books in schools, libraries, homes, and bookstores. As the official sponsor of National Children's Book Week, the Children's Book Council, a nonprofit trade association that promotes the use and enjoyment of children's trade books and related literacy materials for young people, encourages young people to discover the complexity of the world beyond their own experience through books. For more information, visit http://www.cbcbooks.org.
Cheerios, Honey Nut Cheerios, Frosted Cheerios, MultiGrain Cheerios, Apple Cinnamon Cheerios, Berry Burst Cheerios, Yogurt Burst Cheerios, Fruity Cheerios and Spoonfuls of Stories are trademarks of General Mills.