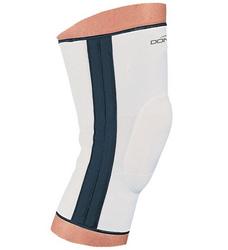 San Diego, California (PRWEB) September 2, 2010
BetterBraces.com, the sports bracing and therapy experts, recommends the DonJoy Elastic knee sleeve for cheerleaders looking for extra knee support.
Due to the physical nature of cheerleading–gravity defying stunts, gymnastics tumbling, intricate dance routines–painful knee injuries are quite common. Cheerleaders need knee braces that will allow them to perform their routines uninhibited, which is why BetterBraces.com recommends the DonJoy Elastic Knee Sleeve.
The DonJoy Elastic Knee Sleeve is an ideal choice for cheerleaders because it is provides enough protection for their knees without impeding movement. Made from lightweight, breathable elastic cotton, this knee support keeps the knees from getting too hot and sweaty beneath the braces.
"Cheerleading involves a lot of high impact landings and side-to-side movement, which can result in knee pain," explained Jason Zinn, president of BetterBraces.com. "Typically cheerleaders want some extra support, but don't want to wear a bulky brace which is why we recommend the DonJoy Elastic Knee Sleeve."
In addition to recommending the DonJoy Elastic Knee Sleeve, BetterBraces.com has an entire section of their website devoted to products that will help protect cheerleaders from injuries - http://www.betterbraces.com/cheer-and-dance.
BetterBraces.com also carries a wide array of products that help with knee pain relief. It is the official source for braces, supports, and therapy products from the industry's leading brands – DonJoy, Aircast, Compex, ProCare, Saunders, and Chattanooga.
Contact:
Alison Terrell
Online Marketing Manager
(760) 579-0214 x104
alisont(at)betterbraces(dot)com
###