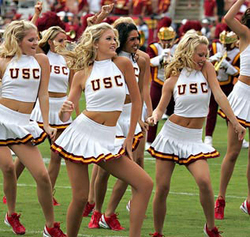 The largest gallery of college cheerleader photos on the internet
Philadelphia (PRWEB) September 3, 2009
"The largest gallery of college cheerleader photos on the internet" is the theme for a new photo blog that depicts classic pictures of beautiful college cheerleaders around the nation.
In recognition of another exciting year of college football, CollegeFootballSidelines.com announces the grand opening of its new web site. The site has pictures of the prettiest girls that roam the sidelines of major American universities during college football games.
In addition to classy pictures of college cheerleaders, the site also has photos of majorettes, song girls, kick squads, and gorgeous college football fans.
But, the site isn't just about pretty girls. There are also rankings of the Top Party Schools in the nation from Playboy, Pub Club, and Princeton Review. Penn State was # 1 in this year's list of Top Party Schools in Princeton Review while Miami was the national party champion in Playboy.
"We wanted to show the beauty and athleticism of our nation's college cheerleaders," said Anthony Wayne, content manager for the site. "We felt that a site like this was long overdue."
With all of the beautiful girls gracing the pages of College Football Sidelines, it was hard to pick a favorite, but Wayne added that Playboy in 2008 named Florida, Southern Cal, Arizona State, and UCLA as being the Final Four of the nation's hottest cheerleaders.
"Those four schools are the elite when it comes to gorgeous college cheerleaders," said Wayne. "But, I am also very fond of the Oregon, South Carolina, LSU, Texas, UC-Irvine, and West Virginia girls."
College Football Sidelines plans on having a vote line beginning in October and will allow its readers to determine the ultimate hottest in college cheerleaders.
"That will settle the debate of who the nation thinks has the hottest college cheerleaders," said Wayne.
College Football Sidelines is a product of Olympic Internet which also operates web sites entitled Lingerie Fantasy Football, Athletes Wives, and Baseball's Hottest Wives on Fantasy Baseball Dugout.
###