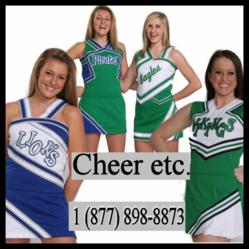 I just wanted to let you all know I have ordered cheerleading stuff from other vendors in the past and there is no comparison to the service and quality we received from your company. The warm-ups look great. I will recommend your company in the future.
Chesterfield, MO (PRWEB) March 16, 2011
Cheer Etc. is offering cheerleading uniforms, custom cheerleader uniforms and even design your own cherleading uniforms at savings of over 50% compared to other cheerleading companies. You can design your own cheer uniforms, or pick anything from anywhere, just about any cheerleading catalog and the prices are still $49.00 to $89.00, depending on quantity.
With those prices, you can get 2 sets of cheerleading uniforms for the price of one. Cheer Etc. also offers all star cheerleading uniforms, dance team uniforms and warm ups with specialy fabrics like metallic, sequins and sparkle zebra prints. Samples are available upon request, and the quality is top of the line.
A professional seamstress is available upon request.
In these times of economic downfalls and hardships, many teams are having budget and funding cuts and cheerleading squads are having to work even harder at fundraising to purchase the cheerleading supplies that the squad needs. Cheer Etc is stepping forward and lowering prices to help you - cheerleaders and cheerleading coaches - to raise your school spirit and pride. Don't forget to top off your uniform with a custom hairbow. Cheer Etc has over 300 styles available, and with their large selection of color choices the possibilities are endless!
We also guarantee the lowest prices on cheer warm ups, which are 37% less than Varsity for the same exact cheerleading warm ups from the same manufacturer.
Mascot costumes have quick delivery and also have the lowest prices guaranteed.
In-stock pom poms are from $5.75 and are available for immediate shipment. Need to be heard? Cheer Etc has megaphones from $15.00. Cheer Etc even has items you can sell at games and tournaments for fundraising like temporary tattoos and rooter poms. Also check out Cheer Etc's full time of t-shirts and sweats that you can have customized - what a great money maker for a school spirit store! Custom t-shirts and shorts for camp are $8.00. Sport bags start at just $6.00. Cheerleading shoes are from $23.50 and socks start at $4 a pair.
Cheer Etc. carries a full line of cheerleading items in stock that ships the same day you place your order. We have a cheerleading blog that will keep you informed of all the latest cheerleading fashions, where you can find the best prices and coupons for chherleading.
Visit our website at http://www.cheeretc.com or call us today at 866-99-SPORT to get a special quote for your cheerleading squads needs.
###