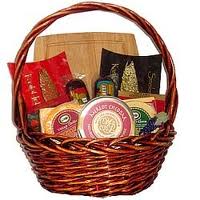 Swiss, German, British, Russian and other types of cheese can be purchased in an assortment pack for reduced prices on any day of the year.
Houston, TX (PRWEB) February 18, 2013
Cheese and chocolate remain two of the most popular gifts that are presented for all occasions. Traditional retailers that do not specialize in carrying specialty cheese do not usually discount the retail price. The eCheese.net company is now discounting the prices for all of its cheese gifts sold online. These gifts represent hundreds of different varieties of cheeses produced around the world. The company inventory and discounts can be searched online at http://echeese.net.
North America is known for producing Cheddar and Mozzarella cheeses. The majority of products that are sold to retail stores are based upon these domestically produced cheeses. International companies typically distribute alternative types of cheese to the U.S. market.
Types of Brie, Havarti, Blue Cheese, Gouda and Swiss can be found through specially retailers. The new discounts applied to the cheese inventory online include the most popular styles.
Cheese assortments have become an easy way that consumers now use to sample more than one cheese type at the same time. From small wedges to large blocks, cheese sampling is now a growing industry. A large portion of the eCheese.net company inventory includes samples and other gifts that can be purchased online. Swiss, German, British, Russian and other types of cheese can be purchased in an assortment pack for reduced prices on any day of the year. Additional discounts are offered by this company during holidays.
The easy to use online search and sort feature on the company website makes it possible for any customer to locate specialty cheeses. The upgrades to the company website have taken place this year and have helped build the company into one of the largest found online. Hundreds of manufacturers are represented to help the public search for varieties of cheese types that can be ordered with a click of a button.
The new discounts that are available online are applied immediately during the checkout process. Complete customer service is available before and after sales are made by the public.
About eCheese Co.
The eCheese Co. works closely with hundreds of distributors to supply the public domestic and import cheese varieties online. The current inventory includes blocks, assortments, specialty packages and culinary cheeses sold for reduced pricing. This company frequently publishes discounted pricing to help alert the public of lower retail pricing. The eCheese Co. ships all of its customer orders the same day orders are processed. With expedited shipping services, this company is able to meet holiday deadlines and other special arrangements without additional costs to the public.