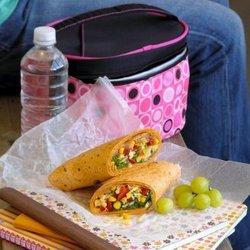 And for vegetarians, just skip the chicken, since the sandwich contains a healthy helping of cheese and beans as your primary protein source.
San Francisco, CA (PRWEB) August 7, 2007
For a change of pace at lunchtime, dietitian Roberta Duyff recommends easy Southwest Cheese Roll-Ups. Start with a tortilla, top with cheese and other goodies, and roll up burrito style.
"This lightly-spiced sandwich not only delivers the nutrients from its many veggies, the reduced-fat cheese and vegetarian refried beans provide plenty of protein with less fat than a traditional burrito," says Duyff.
Duyff, respected author of such books as the American Dietetic Association Complete Food and Nutrition Guide and 365 Days of Healthy Eating, created this roll-up recipe for the Irish Dairy Board using Kerrygold Reduced Fat Aged Cheddar Cheese. While it has 48 percent less fat than regular Kerrygold Aged Cheddar, the cheese has the same full, rich, rounded flavor, coaxed through an aging process of 12 months.
"If you like, pack salsa as a condiment," Duyff adds. "And for vegetarians, just skip the chicken, since the sandwich contains a healthy helping of cheese and beans as your primary protein source."
All the ingredients in this sandwich are readily available at the supermarket, including the Kerrygold cheese, imported from Ireland. The cheese is sold in 7-ounce blocks in parchment packages.
The golden color of the cheese is natural, the result of the beta-carotene in the rich, green Irish grass, the exclusive diet of Kerrygold cows. The cows receive no antibiotics or growth hormones that can find their way into milk. And all cheeses are made without additives or preservatives.
School lunch needn't be the same old sandwich. Tortillas and cheese from Ireland ensure that when it comes to creativity, good taste and nutrition, you're on a roll!
Southwest Cheese Roll-Ups
¾ cup (3 ounces) shredded Kerrygold reduced-fat Cheddar Cheese
½ cup corn kernels (drained if canned)
¼ cup chopped red or green bell pepper
2 tablespoons chopped green onion
1/2 teaspoon Southwest seasoning*
Dash of hot sauce, optional
2 (10-inch) tortillas (chipotle, sun-dried tomato or whole wheat)
½ cup vegetarian refried beans
2 cups shredded green or red leaf lettuce
4 ounces cooked skinless, boneless chicken sliced (from leftover rotisserie chicken or grilled the night before), optional
*Substitution: ¼ teaspoon chili powder and ¼ teaspoon cumin
In a medium bowl, combine cheese, corn, red pepper, onion, seasoning and hot sauce if used. Mix. Set aside. Spread each tortilla with half the refried beans, leaving a 1-inch edge without beans. Top each tortilla with lettuce, chicken (if used), and cheese-corn mixture, dividing equally. Fold each tortilla about 1 inch on two opposite sides toward the inside, then roll. Wrap well in plastic wrap, and pack to carry.
Makes 2 sandwiches.
Per serving, recipe provides the equivalent of 1 cup vegetables, 2 ounces grains, 1 cup milk, and 2 ounces lean meat if chicken is used
Variations: Add chopped tomato, sliced avocado or cilantro.
Recipe by dietitian Roberta L. Duyff, MS, RD
For more Kerrygold lunchbox recipes, visit http://www.kerrygold.com/usa.
Contacts:
Sandy Hu
415.626.1765
sandy @ sandyhufm.com
For The Irish Dairy Board:
Molly O'Loughlin
847.492.8036
moloughlin @ idbusa.com
###