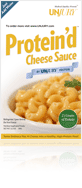 "As far back as 2009,.. we wonder[ed] how to make a protein supplement that fits right in to everyday food choices …We realized the answer was Cheese. Cheese makes everything taste better. Everybody loves cheese." ~ Martha M Krachenfels MS RD
Washington, DC (PRWEB) October 19, 2011
UNJURY® Protein introduces the first ever protein supplement that delivers the great taste of cheese. Protein'd™ Cheese Sauce powder, when combined with water or milk, creates a great tasting cheese sauce with 21 grams of protein per serving.
Millions of Americans – more each day – use protein supplements, and it's not just athletes and body builders. Expectant and nursing mothers need 25 grams of extra high quality protein per day, and that doubles to 50 grams when it's twins. Cancer patients need protein to repair, and to maintain strength.
Millions of Americans are working to lose weight, and a growing body of medical research says increased protein intake is key to weight loss. Lacto-ovo vegetarians and millions of bariatric surgery patients need to put special focus on getting enough protein in their diets. Protein supplements help all of these groups.
Despite the need for protein supplements, not everyone who should be using protein supplements actually uses them as regularly as they should. One key reason is that protein supplements have always been something separate from the rest of what people eat – whether it is protein shakes or protein bars. It doesn't blend into their everyday diet.
Another problem is that consumer choices in supplements are largely limited to sweet flavors – chocolate, vanilla, strawberry and similar flavors.
Finally, even those flavors don't guarantee good taste. Consumers say they dislike the taste of most protein supplements.
The Virginia-based company, Unjury® Protein has introduced a protein powder that, when combined with water or milk, creates a great tasting cheese sauce. The President of the company, Martha M Krachenfels MS RD, explained how they brought cheese to protein supplements.
"As far back as 2009, we began to wonder how to make a protein supplement that fits right in to everyday food choices – one that fits in even with your favorite foods: Mac N Cheese, chili, tortilla chips, potatoes, crackers and more…and even makes vegetables taste great.
"We realized the answer was Cheese. Cheese makes everything taste better. Everybody loves cheese."
Typically, however, cheese is higher in fat, lower in protein. For example, the USDA Nutrient Database says three one-ounce slices of cheddar cheese provide 21 grams of protein – along with almost 28 grams of fat, and 339 calories.
Protein'd™ Cheese Sauce delivers the same 21 grams of protein with only 3 ½ grams of fat, and 140 calories. For consumers with limited intake, or a desire to limit fat and calories, that's 17 fewer grams of fat, and 200 fewer calories.
Clearly Americans enjoy cheese. The average American consumes 30 pounds of cheese per year according to the USDA. For all the cheese lovers who don't happen to use protein supplements but do love cheese, they too now have a far healthier option.
For example, parents of kids who won't eat meat have a great alternative source of protein that most kids love: Mac N Cheese – using Protein'd™ Cheese Sauce. Similarly, vegetarians who consume dairy products have a healthy alternative that complements other foods they eat. Cancer patients often experience an aversion to both sweet tastes and to meat as a side effect of cancer therapy. Protein'd™ Cheese Sauce is a savory alternative.
Expectant moms commonly have morning sickness in their first trimester, and the savory taste of Protein'd™ Cheese Sauce is particularly tolerable. In the final trimester, there is often reduced capacity to eat. Protein'd™ Cheese Sauce is quite concentrated as a source of protein. Just 4 to 5 tablespoons contains as much high quality protein as 3 eggs.
When we asked about taste, Ms. Krachenfels offered quotes from their early tasters:
"Tastes so good I eat it right off the spoon"
"Perfect for Mac N Cheese"
"Solves a big problem for me"
Click here for great tasting recipes using Protein'd™ Cheese Sauce, including Mac N Cheese, Mashed Potatoes, Grilled Cheese, Quesadillas, and more.
Protein'd™ Cheese Sauce can be purchased at its website, http://www.UNJURY.com or by calling 1-800-517-5111.
About UNJURY
UNJURY ® Protein was founded in 2002. The company is committed to offering only good tasting, medically-sound highest quality protein supplements. UNJURY is known for providing high quality protein products with superior taste and are widely used and recommended by doctors and top-rated hospitals. For more information, visit http://www.Unjury.com or call 1-800-517-5111.
###