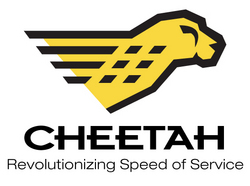 Cheetah allows everyone involved, from dispatchers to customer service reps, to see not only where an order has been, but when it will reach its destination.
Westlake Village, CA (Vocus) June 17, 2010
Cheetah Software Services, Inc., an SaaS transportation logistics solutions provider, announced that Fidelitone Logistics has implemented the Cheetah Delivery solution for optimized route planning and dispatch automation and enhanced customer service. Fidelitone, an industry leader in 3PL and supply chain performance with 25 locations throughout the US, recently implemented Cheetah Delivery and has already reduced miles per stop and delivery stop times while improving customer service.
Fidelitone selected Cheetah to provide a solution to automate their largely manual processes due to Cheetah's overall functionality, support of business resources, and scalability. Cheetah also provided the most cost-effective solution as compared to the competition, based on an affordable monthly subscription with a low up-front capital investment. Furthermore, the implementation was seamless, with Cheetah's support staff enabling a fast and efficient rollout at each Fidelitone location.
"We researched several providers, based on the need to execute our vision of improved productivity for our customers," said Chuck Perry, Director, Customer Solutions at Fidelitone Logistics. "We formed a relationship with Cheetah because they exceeded this vision, providing cost-effective, user-friendly functionality with very responsive customer support."
One of the most significant impacts so far to Fidelitone's business processes has been a reduction in delivery windows from between 8:00am to 5:00pm prior to Cheetah, to two hour windows following the implementation of Cheetah Delivery. Fidelitone uses smartphones with advanced wireless and GPS capabilities to achieve real-time visibility and significant reductions in both miles driven and delivery stop times.
Cheetah Delivery has proven so efficient that Fidelitone utilizes the solution in marketing to new customers. Improvements in delivery windows as well as overall improvements in office staff efficiency, driver relations, and field communications significantly enhances Fidelitone's customer service. Fidelitone customers benefit from the implementation of Cheetah Delivery by enjoying better access to more information on delivery and pickup status—improving their ability to plan and manage their own supply chains. This enhanced customer visibility provides both Fidelitone and its customers with a significant competitive advantage.
"We're excited to have a partnership with Cheetah and to bring these benefits to our customers," said Perry. "We are experiencing more efficient miles, and our accuracy in hitting committed delivery times has exceeded expectations."
"Cheetah allows everyone involved, from dispatchers to customer service reps, to see not only where an order has been, but when it will reach its destination," said Stephan Karczag, Cheetah's Vice President of Sales and Marketing. "In today's troubled economic times, Cheetah's customers are finding this enhanced visibility and improved efficiency and productivity to be vital in not just surviving, but thriving."
"In addition, knowing where a driver is allows a dispatcher to quickly determine the most efficient routes and update them in real time—making significant reductions in the miles driven and thus in the amount of fuel that's used. That helps companies like Fidelitone reduce their costs and provide dramatically improved customer service."
For more information about Cheetah Software Systems, Inc., contact Mark Coppock.
About Cheetah Software Systems, Inc.:
Cheetah Software Systems provides dynamic, intelligent wireless solutions to automate and optimize delivery route planning, pickup assignment, dispatch, and customer service. Fully scalable and Web-based, Cheetah solutions increase productivity and profitability for carriers of any size with minimal up-front costs. Cheetah's private fleet and LTL customers utilize GPS-enabled phones and PDAs to schedule, route, and track drivers and shipments. Today, Cheetah streamlines business and home delivery transactions for hundreds of firms across North America. For more information call 888-Cheetah or visit http://www.cheetah.com.
About Fidelitone Logistics:
Fidelitone Logistics is an industry leader in 3PL and supply chain performance that delivers value-added solutions for business partners and their clients. As a logistics innovator since 1929, expertise includes: Inventory Management, Global Sourcing, Warehousing & Distribution, Transportation Management, Print & Packaging, White Glove Delivery and Reverse Logistics. Headquartered in Chicagoland, Fidelitone Logistics is a privately-held company with more than 25 locations and 600 employees throughout the United States. To date, more than 1 million shipments are managed by Fidelitone Logistics each month, for a variety of customers ranging from Fortune 100 companies to start-up organizations. For more information, please visit http://www.fidelitone.com.
###