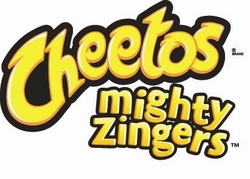 We're always looking for ways to bring fun into our consumers' lives and offer them products that provide a release from their busy days
Plano, Texas (PRWEB) April 8, 2010
Cheetos lovers are in for the ultimate treat, because Chester Cheetah is today unleashing a new cheesy innovation called Cheetos Mighty Zingers – the tiniest Cheetos snacks ever made and marketed. Mighty Zingers are the latest innovation from Cheetos, the world's most mischievous and playful snack brand, which is part of PepsiCo's Frito-Lay division.
Building on the launch of Cheetos Giants in 2009, this year Chester switched things up in the flavor lab to give fans just the opposite type of fun snacking experience. Each brightly colored bag is packed with a punch, combining two unique flavors into tiny but mighty snack clusters that are great on their own, but even better together. There's even a playful perforated "pouring tab" up top, making it easier than ever to pop a delicious handful of Mighty Zingers straight into your mouth.
"We're always looking for ways to bring fun into our consumers' lives and offer them products that provide a release from their busy days" said Rudy Wilson, vice president, marketing, Frito-Lay. "From the flavors to the shape, we're excited to see how people enjoy and play with this tiny two-taste Cheetos snack"
Mighty Zingers tempt Cheetos aficionados with a duo of small, bite-sized pieces that pack extreme flavors only Chester could concoct. Keep an eye out in stores for both varieties, including Ragin' Cajun & Tangy Ranch and Sharp Cheddar & Salsa Picante, available now nationwide for a MSRP of $2.99.
As Cheetos Mighty Zingers "invade" the real world, fans can also get their cheesy fix in the digital world at http://www.chestersfeed.com, where Chester's Feed aggregates all the best of the web, starring the beloved snacks. From fan-made videos to photos and even artwork, there's a host of fun content created by consumers. The Website also houses fun games, news, recipes and more. Cheetos Mighty Zingers will also be supported by a fully-integrated marketing campaign including digital and television advertising as well as in-store merchandising and out-of-home.
Frito-Lay North America is the $12 billion convenient foods business unit of PepsiCo (NYSE: PEP), which is headquartered in Purchase, NY. In addition to Frito-Lay, PepsiCo business units include Pepsi-Cola, Quaker Foods, Gatorade and Tropicana. Learn more about Frito-Lay at the corporate Web site, http://www.fritolay.com/, the Snack Chat blog, http://www.snacks.com/ and on Twitter at http://www.twitter.com/fritolay.
PepsiCo offers the world's largest portfolio of billion-dollar food and beverage brands, including 18 different product lines that each generate more than $1 billion in annual retail sales. Our main businesses – Frito-Lay, Quaker, Pepsi-Cola, Tropicana and Gatorade – also make hundreds of other nourishing, tasty foods and drinks that bring joy to our consumers in over 200 countries. With more than $43 billion in 2008 revenues, PepsiCo employs 198,000 people who are united by our unique commitment to sustainable growth, called Performance with Purpose. By dedicating ourselves to offering a broad array of choices for healthy, convenient and fun nourishment, reducing our environmental impact, and fostering a diverse and inclusive workplace culture, PepsiCo balances strong financial returns with giving back to our communities worldwide. For more information, please visit http://www.pepsico.com.
Contact:
Chris Kuechenmeister
(214) 422-8901 cell
Chris(dot)Kuechenmeister(at)fritolay(dot)com
# # #