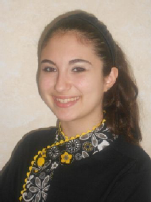 Palm Bay, Florida (PRWEB) June 19, 2012
The winner of Crooked Brook Chef Coat Giveaway 6 that was held on Master Sugar Artist Ruth Rickey's blog SugarZen, is Sidney Galpern of Simi Cakes & Confections. Rickey has partnered with Crooked Brook maker of the "World's Highest Quality Chef Jackets" to hold weekly Chef Coat Giveaways on SugarZen.
The chef coat is described as follows
Women's Chef Coat Style BSW 105H
Size 6, cropped
Black, Supima Gabardine
Square cuffs
Red Tagua Nut top buttons
Red Berry piping: double collar & front
Extras: Spider embroidery on left shoulder
About Sidney Galpern
Sidney Galpern is a Certified Professional Chocolatier, Cake Designer, Sugar Artist, and Instructor. She graduated with honors from the prestigious Ecole Chocolat School of the Chocolate Arts and has the distinction as the youngest student to ever complete the program. She trained and interned with top sugar artists and chefs in New York City, Orlando, and West Palm Beach. Her company was chosen for the ABC Television program Extreme Makeover: Home Edition Space Coast. Sidney teaches sugar and cake decorating to professionals and amateurs for the last 4 years at Keiser University, for the Florida ICES, at the Festival of Chocolate, at cake clubs and cake supply stores, judging and sponsoring the Florida ICED Cake Competition, and is a Sugar Arts Institute Founding Certified Instructor for Julie Bashore. She designs and manufactures her own line of sugar art tools as well as writing articles for American Cake Decorating Magazine, CakeFu.Com and featured in the Florida Today Newspaper, Today in Brevard Television Show and the ICES Magazine. She is currently producing how-to videos for cake decorators. In her spare time Sidney likes to volunteer at the Brevard Zoo and volunteers at ICES Day's of Sharing. Sidney co-found the Brevard Cake Artist's Club and her shop, Simi Cakes & Confections (Pronounced See-Me) is located in Palm Bay, Fl.
About Crooked Brook
Crooked Brook is a unit of the atelier division of an art studio that offers full service apparel design, pattern making, sample making, private-label small lot production and embroidery. Since 1989, they've built a strong reputation of providing top-notch apparel designs, patterns, fit and production samples for many brand name catalogs and retailers, as well as wardrobe and costumes for movies, television and theater.
All Crooked Brook branded garments and accessories are proudly made to order in the U.S.A.
Because of their unparalleled attention to detail in tailoring, they were awarded a Supima® licensing agreement. These contracts are not awarded lightly. The applicants must meet requirements insuring the highest level of quality and integrity for any products bearing the Supima® brand.
In addition, Crooked Brook designs and manufactures:
Men's and women's chef coats and uniforms for the world's most recognized chefs, hotels, casinos, spas and resorts as well as alumni chef jackets for the Culinary Institute of America. Each garment can be personalized with the customer's choice of fabric, pockets, buttons, piping and embroidery.
With a design studio in New York City, (the fashion and gastronomic capital of the world) and a production facility in Utica, New York, they've garnered international brand name recognition as the maker of the "World's Highest Quality Chef Jackets™".
Promotional products, items, decorated apparel and accessories, such as; jackets, hats, sweatshirts, hoodies, polo shirts, fleece blankets, sweatshirt blankets, button down shirts, fleece jackets, golf shirts, custom t-shirts http://crookedbrook.com/custom-t-shirts.htm, tote bags, and aprons that can be customized with the following apparel decorating methods:
Embroidery
Tackle Twill
Appliqué
Direct to Garment Printing (DTG)
Sublimation
Custom lab coats, uniforms and scrubs for nursing, medical, dental, scientific, engineering, technology & healthcare professionals.
Custom made apparel and accessories for men and women, including but not limited to: suits, shirts, Hawaiian shirts, pants, vests, dresses, skirts, gowns, jeans, boxer shorts, martial arts and yoga outfits.
Crooked Brook ships worldwide. Hours of operations are 7:00 a.m. to 7:00 p.m. EST, seven days a week. Reach them at (315) 733-1992 to learn more.