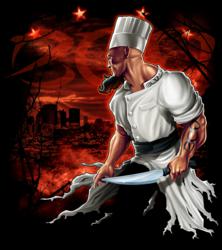 We are a group of chefs who wanted to wear something that represented who we are and what we do.
Louisville, Kentucky (PRWEB) August 28, 2012
Chef wear is something that most people outside of the culinary industry would be in the dark about. The magic that goes on inside commercial kitchens across North America is something that only a select few get to witness or take part in each day. The Extreme Culinary Outfitters company has announced its chef wear t shirts store online. This new e-commerce clothing enabled website is available to both chefs and non-chefs that want to dress in completely unique clothing that is custom designed by the culinary experts at Extreme Culinary Outfitters. One way that this company plans to build a loyal following is by selling cheap t shirts online from its website at http://www.extremeculinaryoutfitters.com.
Television shows like Top Chef have helped bring a lot of public attention to the culinary world. A new revival of custom cuisine is now taking place in many U.S. cities. The old fast food restaurants of the 1980s and 1990s are giving way to unique blends of restaurants that are cooking great food for competitive prices. While the public gets to sample great food in kitchens everywhere, clothing companies that help culinary professionals look great are in more demand. The new custom t shirts that are designed and produced by the team at Extreme Culinary Outfitters have just as much attitude in them as the food that is created by the real life chefs that own the company.
"We are a group of chefs who wanted to wear something that represented who we are and what we do," said Executive Chef, Joseph "Jo-Jo" Doyle. "It wasn't out there, so we made it ourselves," added Doyle.
"Jo Jo" Doyle is currently the Executive Chef at Kentucky's Churchill Downs that hosts the annual Kentucky Derby each year. When he's not creating menus that wow some of Hollywood's elite each year, Doyle spends his time creating t shirts that are now for sale through the Extreme Culinary Outfitters website.
Custom clothing is one of the hottest selling items according to websites like eBay that monitor consumer trends daily. Sales of original clothing are now outselling some of the established brands that have been engraved in the public eye. The custom t shirt market is just one area that is picking up steam and the chef wear being created by Extreme Culinary Outfitters is contributing to a niche that has been forgotten by most major clothing manufacturers.
The new shirts for men and women that are offered through this new t shirt company all include hand drawn artwork from top chefs around the country.
The launch of the Extreme Culinary Outfitters company and website is now underway. Special pricing for t shirts is now available from this top chef clothing company. More information can be found by visiting the Extreme Culinary Outfitters website.
About Extreme Culinary Outfitters
A custom t shirt and a top chef are usually not two things that go well together although Extreme Culinary Outfitters is changing the apparel industry one shirt at a time. This Louisville, KY based t shirt company is capitalizing on a forgotten niche market by clothing companies and creating some of the most unique chef clothing currently available. With a constantly growing inventory and low prices, Extreme Culinary Outfitters is attracting both chefs and non-chefs that want to dress in the most unique t shirts that are not found in chain clothing stores.